Huge Crowd Sends Pats Off To Super Bowl
Added on Jan 29, 2012 by Jack Thurman in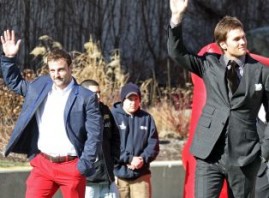 The New England Patriots made the trip to Indianapolis this morning in preparation for next Sunday's Super Bowl matchup against the New York Giants. They were sent off on their trip by over 25,000 fans who filled Gillette Stadium for a 'pep rally' of sorts. The Patriots' team plane arrived in Indy around 5:00 PM Sunday afternoon.
Patriots' coach Bill Belichick addressed the crowd:
"It's a great honor to be representing the AFC and New England in the Super Bowl. We're really excited about the trip, appreciate the support. I'm sure we'll see some of you out in Indy. Go Pats."

Patriots' players also addressed the throng including wide receiver Deon Branch:
"Coach Belichick told us not to come out here and talk too long. We're going to the Super Bowl!"

Quarterback Tom Brady was a little more verbose:
"We have the greatest fans in America. You guys have proved that year in and year out with your support. I wish I could take all you guys to Indy with us. We're going down there, and we're going down there for one reason. We're going to give it our best and hopefully we have a lot more people at our party next weekend."

Team owner Robert Kraft noted:
"I want to thank you all for coming here today and giving us the warmest welcome in the history of this team, our send-off out to Indy, where we intend to do business."

The team had a gift for Kraft–a picture of his late wife Myra Kraft, who died last July:
"You all know I am a great believer in spirituality, and I know that a lot of you, just like our family have suffered losses over the last 12 months of dear ones. And I want you to know that they are ardent Patriot fans, and they've all been smiling down on us over this past year."

"But especially this last game in this stadium I saw one smiling face along with your dear ones, making sure that things worked out the way we wanted at the end of the game."

The Patriots are -3 or -2′ point Super Bowl betting favorites depending on which sports book you check.
No Comments