Las Vegas Sportsbooks Could See Record Super Bowl Handle
Added on Jan 27, 2011 by Jack Thurman in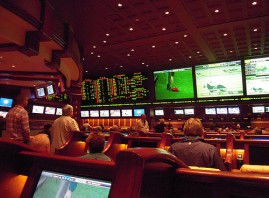 Everyone knows that for a sportsbook with a North American clientele, the Super Bowl is the biggest single betting event of the year.  For books that serve the European market, the biggest single betting event is the Champions League soccer final but online or in Nevada the stores that serve a predominantly American customer base know that even if it doesn't 'make or break' their year the money wagered on the Super Bowl can at least set the tone for the months ahead.  After a couple of down years caused by the slow economy, Las Vegas sportsbooks are expecting the Super Bowl handle to come back in a big way this year.  In fact, some bookmakers are suggesting that the money bet on Super Bowl XLV could top the current record of $94.5 million.
The previous record was set on Super Bowl XL between the Steelers and the Seahawks.  That fact, combined with several other factors, has the Nevada bookmaking community bullish on the prospects for a big number this year.  John Avello, director of the Wynn Las Vegas sportsbook, is hoping for a record citing the improving economy and two storied franchises with big fan bases in this year's game:
"I'm gonna hope we're close to $100 million.  It all comes back to tradition."
Jay Kornegay, Director of the Las Vegas Hilton Super Book expects a good handle this year but isn't quite ready to call it a potential record breaker:
"I think it's gonna be a great handle. I hope we approach $90 million. It's still a little soft out here. It's a terrific matchup. Maybe we couldn't even find a better matchup. But that big, old cloud [the recession] is hanging over us. It's not like it was in 2006. I think we're gonna be challenged to break a record. I think the game's gonna be to be an attractive game to watch and wager. But I don't think people are making the same sized bets they were making."
Avello parted company with most of his colleagues in Nevada and offshore by opening the Super Bowl with Pittsburgh a -1 point favorite.  This quickly brought in a torrent of Green Bay money–which is what he'd hoped for–and now the price at the Wynn is Green Bay -2′.  Avello explained his rationale for opening the Steelers as favorites:
"They've been there before," he said. "The quarterback has been there before. Some of their other players have been there before. They know how to get ready for a Super Bowl."
He does realize that the Packers are something of a 'bandwagon team':
"People like to get on a team that is a so-called underdog at the start of the playoffs and take 'em right through. They rode the [Super Bowl XLII champion] Giants when they were in a similar situation [against the Patriots]."
Since estimates usually place the amount of money wagered in Nevada at somewhere between 1% and 3% of the total amount bet on the Super Bowl worldwide, you can see that a strong year for betting the big game would benefit bookmakers from Las Vegas to Costa Rica.
No Comments