Madonna Prepares For Super Bowl Halftime Show
Added on Jan 25, 2012 by Jack Thurman in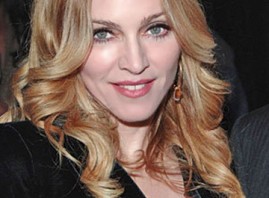 It's no secret that in the past decade the Super Bowl has become more than a mere football game. It's now a multimedia spectacular and major event in a number of industries that have nothing to do with sports. One of the biggest 'subplots' of the day is the halftime performance–this year featuring Madonna.
Madonna is hard at work preparing a suitably over the top spectacle. 'Madge' says she's 'nervous but excited' at performing on such a big stage:
"I know what songs I'm doing, I have my guest artists. I know what I'm wearing, and I just hope I can negotiate the high heels I have to dance in."

Madonna declined to reveal a set list for her performance, saying only that she'd be playing a new song "Give Me All Your Love" and some "oldies but goodies." The choreography will be over the top and 'fabulous' with one dancer quoted as saying that she'd be "bringing the gay to the Super Bowl".
Madge equivocated when asked which team would win the game:
"It's a tough one. …I'm just focusing on my performance, okay? Don't ask me to take sides!"

The Super Bowl has had a hard time getting the half time show right in recent years. They were spooked by Janet Jackson's infamous 'wardrobe malfunction' and overreacted by dragging out a serious of past their prime rock bands like The Who and just lame acts like the Black Eyed Peas. Perhaps the only unqualified success in recent memory was the emotional post 9-11 performance of supergroup U2–clearly demonstrating the importance of getting a first rate touring act in their artistic prime.
Madonna may not be 'taking sides' as to the result of the game but everyone else is. The current Super Bowl betting line has New England as a -3 point favorite with the total set at 55′. Don't be surprised if Madonna herself ends up as the subject of some of the more outlandish prop bets offered by offshore sports books–there's considerable precedent for books taking action on the halftime show including futures wagering markets on what songs will be performed.
No Comments