Super Bowl Bettors Show Little Love For Pats
Added on Jan 28, 2012 by Jack Thurman in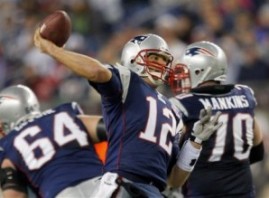 How soon they forget. The New England Patriots have been to the Super Bowl six times in franchise history winning three. Five of those six appearances and all three wins have been in the past decade. All three wins have been with Bill Belichick on the sidelines and Tom Brady under center. Brady was named MVP in two of those three games. Yet the betting public is for some reason enamored with the New York Giants and money continues to pour in on the NFC Champion.
In all fairness, the Pats are still favored and at least at the opening price some action on the Giants is completely understandable. New England opened a +3′ point Super Bowl betting favorite and early players bet the Giants as much to get 'the hook'–the extra half point–that covered the key number of three. The money has kept coming in on the Giants, however, and the line has dropped to New England -2′ in some locations. In recent years the underdog has cashed regularly after the Super Bowl being a favorite dominated affair for decades.
No disrespect meant to the Giants who are a solid, well coached team with a first rate quarterback. It's just hard to understand why there's so far been such relative unanimity that New York is the 'right side'. Giants supporters like to claim that their team has the superior defense and to be sure their pass rush ranks among the best in football. Aside from their 'front four', however, their secondary and pass coverage is fair to middling at best. And it's not like either team was dominant in their conference championship victories–the Patriots were a shanked field goal from heading to overtime but the Giants were likely a Kyle Williams fumble away from watching the Super Bowl on television.
The Sports Options odds feed indicates 57% of the incoming bets on the Giants and there could be some buyback on the Patriots forthcoming. For 'wise guys' who like the Pats there was no real motivation to bet the game early. It was inevitable that the game would move off the opening line and with the flood of Giants money early New England backers have every reason to wait. Look for the 'smart money' to start buying some of the 2′ prices out there and look for a closing line right at 3.
No Comments