Super Bowl Secondary Ticket Market Shows Strong Demand
Added on Jan 26, 2012 by Jack Thurman in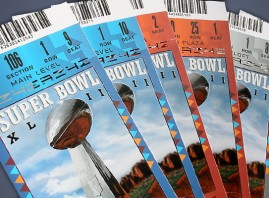 The Super Bowl is always a 'tough ticket' with limited availability and high costs on the secondary market. This year that is particularly true as two popular teams from high population Northeastern markets collide in the NFL's championship game. Currently, the baseline for Super Bowl tickets on the secondary market is a hefty $2,800 but demand is still high. According to a spokesperson for the StubHub ticket sales website the Super Bowl drove over 1.5 million searches on Sunday alone.
A competitive matchup is only part of the equation driving the strong ticket demand. The relative size and wealth of the Boston and New York areas plays a large factor as does the proximity of the game venue in Indianapolis. Then there's the 'rematch angle' with the Patriots looking to atone for their 2008 Super Bowl loss that spoiled their perfect season. New Jersey based ticket broker Tom Patania gave this explanation:
"New York-Boston is always a rivalry, and the way the game ended four years ago? The rivalry is there."

Ticket broker Tim Fraser added:
"I don't know if I can think of two better markets for any game. The Giants and Patriots have fans that span the country. Of the four teams, there's no doubt that this is the match-up that would have the highest demand for tickets."

Patania said that the smaller size of this year's venue will keep prices high. Cowboys Stadium, the site of the 2011 Super Bowl, had an announced capacity in excess of 100,000. Indy's Lucas Oil Stadium is just over 70,000:
"The teams are going to get less tickets and there will be less tickets overall, and that means a tighter market. But you don't know what the market is going to do. We've seen situations where its dipped and then rallied."

The NFL divides the tickets the same way every year. The Giants and Patriots get an allotment of roughly 12,250 tickets, or 17.5 percent of the total. The Indianapolis Colts as the hosting team get 3,500 while each of the other NFL teams receives 1.2 percent of total tickets. The NFL keeps 25% of the tickets which mostly go to corporate bigwigs and other 'VIPs'.
No Comments