Champions League Preview: Wednesday's Matches
Added on Nov 23, 2010 by Trent Sillanpaa in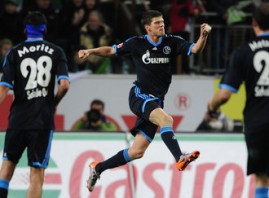 (Home team listed first; team points in parentheses)
Group A
Inter Milan (7) vs. FC Twente (5): The most wide open group in the Champions League should have clear some things up on matchday five, but only if the teams can avoid draws. Twente has been solid so far, but it has been a long time since it drew Inter at home to start things. Meanwhile, Inter's season is falling apart in Serie A. Will this be a case of a team dragging its poor domestic form into Champions League play or exorcising its demons? Look for Inter to pull this one out, but not without a struggle.
Tottenham (7) vs. Werder Bremen (2): Spurs are riding high following its impressive comeback victory over Arsenal last weekend and have a chance to secure a position in the knockout stage with a win. Werder Bremen has been surprisingly poor in group play, though somehow have a shot to move on – with a lot of help – with some wins. Tottenham is very good at home, so expect it to find three more points.
Group B
Hapoel Tel Aviv (1) vs. Benfica (6): Benfica turned around a poor start to the competition with a resounding victory over group leader Lyon, but it was all for naught if it can't beat group the group minnow in Israel. Carlos Martins is playing very well and could prove to be the difference, but don't be surprised if Benfica fails to win away from home.
Schalke 04 (7) vs. Lyon (9): Lyon looked set to ease into the next phase of the tournament before losing in Portugal. However, after falling behind 4-0, Lyon showed its fight with three late goals and is unlikely to falter as badly this time out. Klaas-Jan Huntelaar and Raul give Schalke a fearsome set of forwards, which should help the home side get something from this match.
Group C
Rangers (5) vs. Manchester United (10): Any result will do for United, which could prove troublesome against a Rangers team that is sure to be playing for all three points. It will be an exciting match in front of an excellent crowd, but United will find a way to get that point even if it does no better.
Valencia (7) vs. Bursaspor (0): Valencia will have no trouble securing three points at home against the Turkish team. When the teams met earlier it was a 4-0 drubbing in favor of the Spaniards and Bursaspor has yet to score in group play. A Valencia victory coupled with a Rangers draw or loss will send Valencia through.
Group D
FK Rubin Kazan (3) vs. FC Copenhagen (7): Copenhagen has given itself a little room for error and it may need it in this one. The Denmark side has succeeded with a defensive approach which could send it through with a draw. Marseille didn't have much trouble making its trip to Russia this week so maybe Copenhagen will be as lucky and get the draw it wants.
Panathinaikos (2) vs. Barcelona (8): Who knows why such a pedestrian group has given Barcelona problems, but any result here will be enough for the Spanish powerhouse to progress. If Real's impressive win showed anything it showed that the impending El Clasico can be a motivator in Champions League play, too. Barca will win this one.
No Comments