Belmont Stakes To Attract Unprecedented Betting Interest
Added on Jun 05, 2012 by Jack Thurman in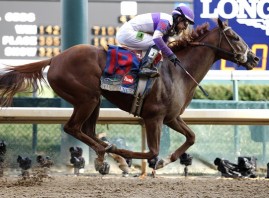 With I'll Have Another poised to become the first Triple Crown winner since Affirmed in 1977 the Belmont Stakes has already attracted an incredible about of interest from the mainstream sports media and casual fans. It'll also attract a ton of interest–and money–from horse race betting enthusiasts eager to bet on or against history being made this Saturday.
Official betting lines won't be posted until after Wednesday's post position draw but the expectation is that I'll Have Another will go off as a prohibitive favorite. Most handicappers suggest that the Kentucky Derby and Preakness winner could open at a price of 3-5 due not only to the two previous victories but also anticipating the crush of 'public money' expected to come in. While most serious horse handicappers will take this cue to look for value on some of the better contenders the general public doesn't think in terms of 'value betting' and will be anxious to back I'll Have Another.
Among the more serious contenders available at what will likely be inflated prices relative to their quality is Dullahan, the third place finisher in the Kentucky Derby. This Dale Romans trained colt is expected to be the second favorite in the Belmont with a projected opening line of 5-1. Also in contention is another Kentucky Derby veteran, Union Rags at a projected 7-1. The 'X' factor in the race could be the Bob Baffert trained Paynter, who should open as the #4 choice at a projected 8-1. Paynter has been lightly raced and will be making his graded stakes debut but is highly regarded by not only his trainer but also horse handicappers and the racing media.
You'll find a full guide to handicapping and betting at Belmont Stakes.org. In addition to the usual parimutual win/place/show options and the popular exotics (exacta, trifecta, Pick 6) sports books will be offering their own menu of unique betting options including head to head horse matchups similar to the ones found in NASCAR races. These are popular among some bettors since you can key on or against a certain horse and can cash a ticket if you're right without having to worry about finishing in a certain position on the race track.
No Comments