Hunter S. Thompson's Kentucky Derby Classic Re-Released
Added on May 01, 2012 by Jack Thurman in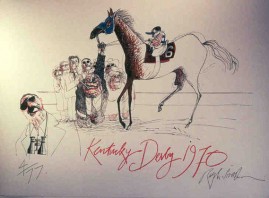 The 138th running of the Kentucky Derby will take place this Saturday, May 5th, at the venerable Churchill Downs race track in Louisville, Kentucky. Just in time for 'The Run For The Roses', a literary classic from Louisville native Hunter S. Thompson is being re-released in a newly recorded audio version.
Thompson grew up in a lower middle class household in Louisville feeling alienated by the wealthier people in his mileu. This theme of class alienation was present in much of his early writing and would shape his world view throughout his life. Thompson didn't view the Kentucky Derby so much as a horse race as he did a microcosm of everything he despised about his home town. "The Kentucky Derby Is Decadent and Depraved" is HST at his best as he describes in his inimitable style how he finagles press entree into the race with bogus credentials and even gives us a play by play of his Kentucky Derby betting efforts (Hunter's horse–Silent Screen–finishes fifth). All the while he has his frequent collaborator Ralph Steadman in tow as the British illustrator tries to keep up and learn more about Kentucky Derby betting through a haze of cigarette smoke and bourbon.
The new audio release is published by Paris Records. It is accompanied by Steadman's iconic illustrations (one of which accompanies this article) and the part of Hunter S. Thompson is read by Oscar winning actor Tim Robbins. Paris Records President Michael Minzer explains why he wanted to highlight the HST's Kentucky Derby classic:
"Apart from the color of the race and the setting of the piece, it's also an early telling of the young taking it out on the old. Clearly Hunter had a grudge, dating back to his high school days, when I believe he spent his prom night in jail."

Despite the fact that the original piece was written in 1970, Minzer suggests it isn't dated in the least:
"When I read some of his commentary about the story years later, I realized it was pretty much an actual account of what happened to Thompson, and that made it even more interesting to me. The temptation is to say it's dated in some way. But not for me. I think it's a classic story what we fear in other people and how we recognize the same things in ourselves."

Louisville native Billy Reed, who covered the 1970 Derby for Sports Illustrated, validates the accuracy of Thompson's account:
"Hunter was able to write some things I know the rest of us wished we could have written but couldn't because of who we worked for."

Thompson is credited as the founder of 'Gonzo journalism' but at its essence his work is simply journalism at its most objective–covering events as he experienced them without having these experiences supplicated to an editorial agenda.
No Comments