I'll Have Another Makes History In Kentucky Derby Win
Added on May 05, 2012 by Jack Thurman in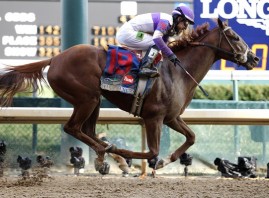 Heading up to the Kentucky Derby sharp horse players had their eye on I'll Have Another. One turf writer quipped that I'll Have Another Was the 'Rodney Dangerfield of thoroughbreds' in that like his comedic predecessor he received 'no respect'. That wouldn't change when he arrived at Churchill Downs–at that point he received a brutal post draw, starting in the #19 position. Given the fact that no horse starting in the #19 slot had *ever* won the 'Run For The Roses' even many handicappers that had him 'circled' before the draw summarily scratched him off of their list.
Despite the tactical disadvantage of starting on the far outside against a large twenty horse field, I'll Have Another underscored the fact that 'there's a first time for everything'. The California based colt ran down a fading Bodemeister in the stretch to take the Kentucky Derby and become the first #19 starter to win the race. He ran the 1 1/4 mile in 2:01:83.
It wasn't just the problematic starting position that scared handicappers off of I'll Have Another–there was some concern about how first time Derby starter Mario Gutierrez would fare against a field with the best jockeys in the business. Gutierrez has become a solid jockey in Southern California but is perceived as being a notch below Rafael Bejarano, Julien Leparoux and Garrett Gomez–considered the best in the Golden State jockey colony. The 25 year old Mexico native got a big break when trainer Doug O'Neill and owner J. Paul Reddam saw him race at Santa Anita–needing some 'new blood' they decided to give the youngster a chance. Gutierrez has justified their faith and then some–in his two races aboard I'll Have Another he's got a Santa Anita Derby win and a Kentucky Derby win. There's a story going around about how Gutierrez had a chance to briefly gallop I'll Have Another at Santa Anita before crossing paths with his connections. After the ride he commented to his agent about how much he liked the horse–his agent told him to 'forget about it' and that he'd never get a chance to ride a talented equine athlete in the immediate future. Fate changed that and after the race Hall of Fame trainer noted that due to the quality of Gutierrez's ride "you would have thought it was Calvin Borel" referring to the veteran considered the best at navigating the Churchill Downs track.
Bodemeister finished second after setting blistering fractions early and Dullahan finished third.
No Comments