Tornado Strikes Churchill Downs
Added on Jun 24, 2011 by Jack Thurman in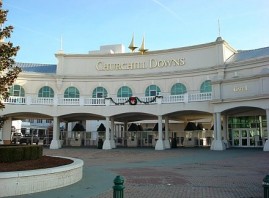 All racing and training at Louisville's iconic Churchill Downs was cancelled on Thursday after a tornado struck the facility on Wednesday night. The most extensive damage was to barns where horses are kept, but the rest of the track suffered only minor damage. The expectation is that live racing will resume today.
Six barns were damaged severely as to be unusable but the main grandstand and the 'Twin Spires' were unharmed. The best news was that there were no deaths or injuries to humans or animals, something that Churchill Downs spokesman John Asher portrayed as miraculous:
"Considering the damage, which is extensive, it is amazing — borderline miraculous — that there were no injuries to either humans or horses."

The EF-2 tornado was part of a line of powerful thunderstorms that struck the Louisville area on Wednesday afternoon. The word across the city was that while there was some physical damage and downed powerlines there were no reported injuries or deaths. This isn't the first time that Churchill Downs was hit by a tornado–it happened previously in 1928.
Despite the damage to the barns there is no expectation of disruption in racing or training. Currently there are enough vacant stalls in other barns to accommodate any horses that need to be moved from the damaged structures. According to track spokesman Asher, between 75 and 100 horses had to be evacuated to other stalls. On Thursday, connections for the evacuated horses worked to line up more permanant boarding either at the track or at nearby Trackside or Keeneland.
Churchill Downs did catch a break with Friday's racing scheduled for a nighttime start. This gives workers the entire day to make sure the facility is safe for both the racing public and the equine athletes. There are also some track workers that boarded in the damaged barns that need to be moved, but Asher didn't anticipate any problem with this.
Assuming that all of the necessary logistical issues are dealt with and Friday night's card is able to go on as planned, post time for the first race will be at 3 PM Pacific/6 PM Eastern with a total of 11 races on tap for the session.
No Comments