Uncle Mo Ready To Resume Training
Added on Jul 04, 2011 by Jack Thurman in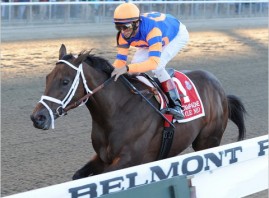 2010 Breeders' Cup Juvenile winner Uncle Mo–who was the early favorite for the Kentucky Derby before a late scratch from the race–is ready to resume training. After a disappointing third place finish in the Wood Memorial he received a full medical examination including bloodwork. Eventually it was determined that he had a rare liver disease and was taken out of training to recover. He's been doing some light jogging and will return to Saratoga this week to resume training with Todd Pletcher.
Uncle Mo has been recuperating at WinStar Farms since May and resumed jogging on June 24th. Pletcher didn't go into to many details when asked how Uncle Mo was doing answering simply ""Excellent so far". He also declined to characterize Mo's recovery as being ahead of schedule because "we didn't really have a schedule."
Owner Mike Repole has said that best case scenario would be a return for Uncle Mo in the Grade 1 King's Bishop at Saratoga on August 27. That could be unreasonable, however, given the limited time available to get Mo back in racing shape and ready to face such a high level of competition. Neither Repole or Pletcher has divulged a 'Plan B' for Mo's return to competition but obviously the hope is that he'll be ready in time for the big potential payday in the Breeders' Cup Classic.
Another of Pletcher's highly touted three year olds that was sidelined with injury is also returning to his training stable. Filly R Heat Lightning–considered one of the favorites for the Kentucky Oaks before being sidelined with a bone chip in her knee–is also returning to Saratoga this week. R Heat Lightning had surgery to remove the bone chip and has been recuperating at WinStar Farms as well. She won the Davona Dale and Gulfstream Park Oaks by a combined 15 1/2 lengths before missing the Kentucky Oaks with the knee ailment.
R Heat Lightning will be returning to training with hopes of getting her back into competition later this summer but according to Pletcher there are no plans currently to race her at the Saratoga meet. Like Uncle Mo, the longterm goal is to get her into shape for Breeders' Cup competition.
No Comments