A Seat at the La Liga Table: Match 13
Added on Nov 29, 2010 by Trent Sillanpaa in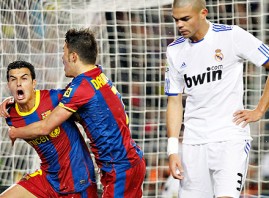 Biggest Rise: Mallorca, 8th to 6th
Anything other than a win over the weekend against lowly Malaga would have undermined Mallorca's victory at Sevilla a week before, but this is what solid teams do. Mallorca is surprisingly in 6th place ahead of Atletico Madrid and Sevilla, though still three points behind Valencia. For all the teams stinking up the joint more often than they should, Mallorca deserves a ton of credit for being where it is. Pierre Webo and Gonzalo Castro did the damage against Malaga, and this team has shown that it might just be a fixture in the top half of the table.
Biggest Drop: Sevilla, 7th to 8th
Home losses are bad for any team. Sevilla lost to Mallorca and Getafe on consecutive weekends, which pretty much sums up the team's struggles. Now, after falling from 5th place to 8th place because of those losses, Sevilla plays at Villareal and is at risk of falling out of the top 10. Too many goals allowed right now and not enough consistency in the attack has created big problems for Sevilla.
Most Important Rise: Barcelona, 2nd to 1st
Barcelona was expected to beat Real Madrid at Camp Nou, but it swarmed Los Blancos from start to finish. The win vaulted Barca into first place and could have only further damaged the psyche of Real in the process. This was a devastating performance which exemplified the difference between Barca and everyone else. As good as Real has been all season under Mourinho, Barca ran circles around them and weren't far from putting up eight goals for the second match in a row. This was a huge statement made by the best team in the world.
Most Important Drop: Real Madrid, 1st to 2nd
So where does Real Madrid go from here? Well, the first thing it needs to do is forget about its embarrassment in Barcelona, at least for now. Things could have been worse, but I don't know how. A 5-0 loss that was essentially over when the home team took the field, losing its advantage atop the standings, a red card and a bunch of yellows… There are a lot of matches left for Real to win the league, but everyone knows it will come down to Barcelona's April 16 trip to Madrid. Now Jose Mourinho needs to massage the egos on his team so that this loss doesn't lead to a second and third and fourth…
5 Comments