La Liga Weekend Preview
Added on Dec 03, 2010 by Trent Sillanpaa in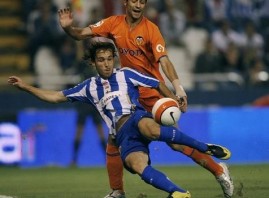 Saturday
Levante (+ ½) vs. Atletico Madrid: There's no reason why Atletico should fail to win this match, but it could suffer a hangover after losing a big one last weekend. Still, Atletico should have too much firepower.
Osasuna (+2) vs. Barcelona: This could be a surprise. Osasuna has yet to lose at home while allowing just two goals in six matches. Barcelona has less rest following El Clasico and could falter if it takes the trip lightly. Somehow it is difficult to imagine Barca winning by fewer than two goals here, though.
Real Madrid (-1 ½) vs. Valencia: Again, how will the last match affect the psyche of the favorite? Real suffered its first loss under Mourinho, but won't be coddled by the manager. Needing two more goals than Valencia would usually turn me off, but Mourinho teams don't usually string poor performances together.
Sunday
Almeria (- ½) vs. Real Zaragoza: The league's bottom two sides have a chance to at least doom the other if not make strides itself with a win. No surprise Almeria is favored at home where it has drawn four, but it's tough to see anything other than a draw or 1-0 score either way.
Espanyol (-1) vs. Sporting Gijon: Without doing anything incredibly well Espanyol has managed to rise all the way to 4th in the table. Sporting has some ability, but has struggled away while Espanyol has six wins in as many chances at home. Take Espanyol in this one.
Getafe (- ½) vs. Mallorca: Continuing its rise, Mallorca sits 6th entering the weekend. This one has letdown written all over it unless you really believe in Mallorca. Mallorca is the safe pick as an underdog, but Getafe will probably take the points.
Malaga (- ½) vs. Racing Santander: Malaga needs to win a match like this because only two teams above it in the table are within three points. Racing has been bad on the road while Malaga has been equally terrible at home. Don't trust a team that hasn't won at home to cover as a favorite.
Villareal (- ½) vs. Sevilla: Villareal has played very well overall, as well as at home. Goals have been a regularity for Villareal while Sevilla has a knack for conceding them. Villareal is the easy pick here.
Real Sociedad (Pick) vs. Athletic Bilbao: Real has been as good at home as Bilbao has been poor away from it. This could very well be a draw, but Sociedad should find more goals even though both should find the net.
Monday
Deportivo La Coruna (- ½) vs. Hercules: Despite the ironic name, Hercules has been tame away from home while surprising this season. Deportivo is not as poor as it has played at times and should win this match.
No Comments