Blazers, Oden To Let Contract Extension Deadline Pass
Added on Oct 31, 2010 by Jason Kearney in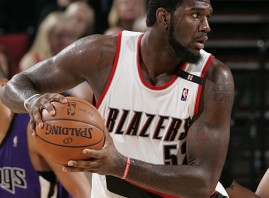 Not really a surprise, but also something that doesn't happen very often–the Portland Trailblazers and Greg Oden's 'representatives' have agreed to let Monday's deadline for 2007 first round picks to sign contract extensions pass.  That means that Oden will become a restricted free agent in July which will give the Blazers the right to match any offer for him.
It's sort of a dubious distinction for Oden–he becomes the first top pick since Kwame Brown in 2001 not to sign a contract extension after his third season.  The reasoning in Oden's case is much different–he's just been injured too much and the Blazers haven't been able to get an idea of his true value to the team.  He's played in only 82 of a possible 248 regular season games and is currently sidelined as he recovers from a broken left patella suffered last December.  There's no current timetable for his return, though he has resumed full contact practices and is traveling with the team.   His representatives said it was "an easy conclusion" to agree to let the deadline pass.
The Blazers would like to re-sign Oden assuming he can stay healthy and contribute to the team.  When he has played, he's been an excellent addition to the team and particularly on the defensive end.  He's also well liked by teammates and in the community.  Portland GM Rich Cho explained the team's thinking in letting the deadline pass:
"We value Greg as a player both on and off the court. Greg has been injured and has been working hard through the rehab process, but at this time it didn't seem to make a lot of sense for either side to enter negotiations on an in-depth basis."
Blazers' coach Nate McMillan has a similar view:
"I think he can help this team when healthy, but we have yet to see that. I think everybody is waiting on that."
Credit to Oden for not going all Gilbert Arenas and obsessing over his contract status while he's injured–he's focused on getting healthy:
"I'm not worried about. I'm worried about getting healthy. My main thing is I can't do anything until I'm healthy … so I'm not worried about that other stuff."
The Blazers are off to a 3-0 start despite the absence of Oden and center Joel Przybilla.  Przybilla is expected to return within the next few weeks, though he cut his thumb and required stitches at practice on Saturday.
No Comments