Clippers Trade for… a New Head Coach?
Added on Jun 24, 2013 by Scott in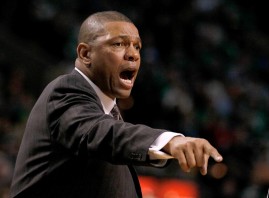 In an attempt to take another step closer to becoming a legitimate contender for the 2013-14 NBA title, the Los Angeles Clippers executed a trade on Monday. Not a trade for a player, but one for a new head coach. Namely, Doc Rivers, formerly of the Boston Celtics. The Celtics released Rivers from his current contract, and will receive a 2015 first-round pick as compensation. Not bad considering they are in full-on rebuild mode. However, the real winner in this deal should be the Clippers, who gain a coach with a history of playoff success and more importantly a championship ring.
Obviously the Clippers are eager to improve upon their regular season accomplishments by advancing deep into the postseason. And head coaches with titles not named Phil Jackson aren't readily available on the street. But who knew a team could just trade for a coach? In NFL circles, Jon Gruden was shipped from Oakland to Tampa Bay back in 2002, but it's not a common occurrence.
Rivers should help the Clippers in several areas, paramount being the re-signing of point guard Chris Paul, who continues to waver on whether to ink a long-term deal or venture into free agency, where he will make less money. Securing a quality head coach was likely a top priority for Paul, especially following the controversial dismissal of Vinny Del Negro.
Assuming that Paul does stay put, the Clippers are still in need of a talent upgrade at other positions. They've long been linked to veteran Kevin Garnett, but he would only solve on of their problems. A reliable long range shooter and more youth up front is also on the offseason wish list.
Not to mention Blake Griffin further refining his all around game. He has regressed as a scorer and rebounder in each of the last two seasons after a stellar rookie campaign. A lack of low post moves and outside jumper has made him easier to defend. Perhaps Rivers can motivate and teach him to expand his offensive repertoire. If not, it could end up being the same ol' Clippers.
Source: ESPN.com
No Comments