Most Intriguing NBA Draft Storylines
Added on Jun 28, 2013 by Scott in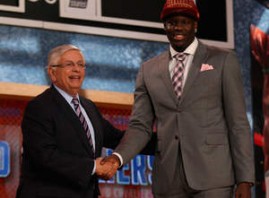 For a draft not considered to be stocked with premium talent, there sure was a bevy of excitement during last night's madness. Cleveland, Boston, New Jersey and Philadelphia all made huge moves to either reshape or tear apart their rosters in preparation for summer free agency. Which teams won or lost won't be determined for years, but the following storylines stood out from the pack.
Cavs get crafty – Cleveland tabbed perhaps the most NBA ready talent in the draft when they bypassed presumed top pick Nerlens Noel in favor of UNLV power forward Anthony Bennett. Toss aside the torn rotator cuff, because Bennett will be primed to roll when the 2013-14 season tips. He should become a solid complement for point guard Kyrie Irving and is a much safer and skilled option than Noel.
Cats reach for Cody – Cody Zeller has the potential to be a reliable role player, but selecting him at #4 constitutes a major gamble by the Bobcats, who continue to display little to no understanding of how to build a playoff caliber roster. They need immediate help at both center and power forward, but Zeller isn't a prototypical 20-10 player. He's a terrific athlete, but he provides little help for the immediate future.
Sixers shocker – Few pundits predicted Nerlens Noel would slide to #6, and nobody predicted the Sixers would ship All-Star point guard Jrue Holiday to the Pelicans in exchange for the shot-blocking 19-year-old. New general manger Sam Hinkie reshaped the entire franchise in one day by adding Noel, tabbing Holiday's replacement Michael Carter-Williams with the 11th pick, stockpiling an extra first-round pick in 2014, and naming (reportedly) Spurs assistant Brett Brown head coach. Whew! All those moves point toward a new-look team built on youth and defense. They also freed up boatloads of cap space to acquire a potent offensive weapon or two next summer.
Nets up, Celts down – New Brooklyn head coach Jason Kidd will have plenty of experienced toys to play with next season after the Nets acquired the Boston trio of Paul Pierce, Kevin Garnett and Jason Terry to go along with Deron Williams, Brook Lopez and Joe Johnson. Will it be enough to dethrone the Heat? Too soon to tell, but they should be fun to watch once the leaves turn. Meanwhile, the Celts receive rebounder Reggie Evans and not much else. Hey, at least the Bruins are good.
Thunderstruck? – Oklahoma City needs a legit big man to offset Kevin Durant and Russell Westbrook. Pitt center Steven Adams is nowhere near ready to contribute in the next two years, but if he develops and matures sooner than later, the Thunder will look like geniuses taking him at #12. However, if he's run out of town by 2015, they will look like complete fools.
No Comments