Must Be the Headband
Added on Jun 19, 2013 by Scott in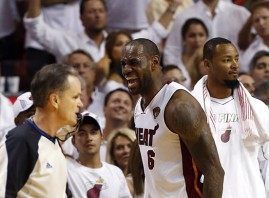 Through three quarters of Game 6 of the NBA Finals it appeared as if the Miami Heat were preparing to bow out of their bid to capture back-to-back titles. LeBron James was struggling, Ray Allen was a non-factor, and Mario Chalmers was leading the team in scoring. Then the King tossed aside his crown, i.e the signature headband, and carried his charges to a thrilling come from behind overtime win to force Game 7.
James dropped 16 points in the fourth quarter and finished with his second triple-double of the series and third of the playoffs. And his did it all without the headband, for what that's worth (ahem, not much).
Superstitious hacks will undoubtedly query James ad nauseam whether he'll don the band for Game 7, but the only thing he needs to bring to the court Thursday is the same take control attitude he displayed in the final 17 minutes last night. That LeBron is impossible to dethrone.
Of course James will be the one reaping the majority of accolades for staving off a legacy damaging elimination, but it was Chris Bosh's huge offensive rebound with less than ten seconds left and Ray Allen's clutch trey from the corner three seconds later that gave the Heat extra life.
As for the Spurs, they squandered a brilliant performance by Tim Duncan, who netted 30 points and pulled down 17 boards. He was a one-man wrecking crew in the first half, scoring 25 of San Antonio's 50 points. His quest for a fifth championship ring was within sight. And then it was gone.
Chris Bosh boldly predicted before the game that sniper Danny Green "wouldn't be open." Three points on 1-7 shooting proved Bosh right, as did his timely block of a Green three late in OT. In addition, Game 6 savior Manu Ginobili fell back to earth, totaling 9 points and 8 costly turnovers in 35 minutes. As a team, the Spurs hit only 5-18 from beyond the arc.
Meanwhile, Mario Chalmers and Shane Battier kept the margin from widening by knocking down 7 three pointers. A 20-point lead entering the fourth would've been too much to overcome, but 10 points was more than manageable for the greatest player in the world.
The Finals have had a little bit of everything: humiliating blowouts, unlikely heroes, and a riveting comeback, to name just a few. Unfortunately, there's only one more chance to watch these two heavyweights go toe to toe. Thursday can't get here fast enough.
No Comments