NBA Free Agent Pool is Shallow
Added on Jul 02, 2013 by Scott in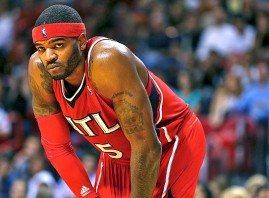 Now that Chris Paul has inked a $100 million deal with the Clippers, and Dwight Howard is being wined and dined by no less than five teams, the rest of the league is left to dip into a shallow pool of free agents. There is talent to be had, but there is also a glaring lack of legitimate A-listers available. Which players will be hot commodities in the coming months? Here are five who will likely be pursued the most.
Josh Smith (Hawks) – A small forward who plays like a power forward, Smith brings intense defensive effort and a history of solid rebounding stats. What he doesn't bring is a consistent long range shot. Wherever he ends up, he will receive a hefty payday. In an overall weak market, Smith might be the most attractive option.
Andre Iguodala (Nuggets) – Need a defensive stopper who can pass and rebound, then Iggy is your man. He's only 29 and appears ready to bolt Denver after one season. He's better suited joining a team that already has established number one and two scorers, which wasn't the case in Denver.
Monta Ellis (Bucks) - It's highly unlikely Milwaukee will retain both Ellis and Brandon Jennings, and it wouldn't be surprising if both walked. Ellis isn't nearly as good as his numbers and is a liability as a starter. However, he can still shoot and would be an ideal sixth-man on a roster searching for offensive help.
Al Jefferson (Jazz) - Jefferson would've been a bigger name had he played in an era where all five positions weren't expected to run and shoot. He's a low post space eater with a solid set of offensive moves who would blossom with a coach that can properly utilize his talents. Despite his impressive career numbers, he's not a go-to number one option. Gregg Popovich or Rick Carlisle would serve him well.
Eric Bledsoe (Clippers) – The Clippers wisely refused to include Bledsoe in any potential trades due to Chris Paul's constant wavering. With Paul in the fold, Bledsoe will finally get a chance to be a full-time starter on a team desperate to add a playmaking point guard who can defend. At 23, Bledsoe is on the cusp of becoming an All-Star, provided he chooses the best fit.
No Comments