Riskiest 2013 NBA Draft Picks
Added on Jun 26, 2013 by Scott in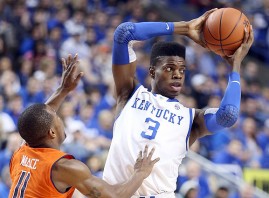 The 2013 NBA Draft will tip off Thursday night at the Barclays Center in Brooklyn at 7pm. The drama surrounding the annual talent sale has been understated due to the lack of bona fide superstars available. Cleveland owns the top pick and if the rumors are true, they are desperately trying to deal the selection for a proven low post player like LaMarcus Aldridge or Kevin Love. The writing on the wall says there is no consensus number one overall prospect. In fact, each of the "big names" has question marks on their resumes. Here are the five riskiest options.
Nerlens Noel (Kentucky) – Is he a supreme athlete? Yes. Is he a shot-blocking monster? Yes. Does he have a refined offensive game? No. Is he 100% healthy? No. The Cavs may be forced to take Noel if they can't move the pick. He does bring a plethora of potential, but a recovering torn ACL and a lack of post moves makes him far from a can't-miss guy. If Blake Griffin isn't a 20-10 power forward, then what is Noel? Mysteries don't constitute worthwhile investments.
Steven Adams (Pitt) – He passes the eyeball test from a physical standpoint, but a limited skill-set and questionable hands raises some red flags. He's flying up draft boards due to his impressive measurables. However, a lack of dominant performances against tough competition is a major concern. He's a noted hard worker and he'll have to be to justify being plucked in the Top 15.
Shabazz Muhammad (UCLA) – Perhaps the draft's biggest enigma, Muhammad could go in the Top 10 or slide to the second half of the first-round. When his shot is targeting, he is a dangerous scorer. When it's not, he's a liability. The All-Pac-12 first-teamer isn't explosive and needs to be more willing to attack the basket off the dribble. At this point, he has the look of a serviceable sixth man, not a reliable starter.
Alex Len (Maryland) – He's more of a sure bet than Adams, but Len was invisible in a lot of games with the Terps. In a weak ACC, how does a seven-footer with excellent size and strength not average at least 12 points per game? Given time to develop, he could become a steady, if not spectacular, starting center. If he's rushed into action without proper coaching, he could be out of the league in less than five years.
Mason Plumlee (Duke) – Duke's track record of producing NBA worthy big men is horrible, especially in recent years. Shelden Williams and Josh McRoberts, anyone? Plumlee has a solid game, but he appears to have plateaued. In the right system, he could be a consistent bench player. However, expecting him to log starter minutes immediately at either the four or five is unrealistic.
No Comments