Rockets Making Hard Sell for Howard
Added on Jul 05, 2013 by Scott in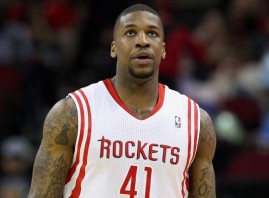 Ever since Yao Ming and his broken feet limped away from Houston in 2011, the Rockets have been searching for a suitable replacement. Dwight Howard would qualify as more than suitable, providing Houston's brain trust can lure "Superman" to the Texas metropolis. The Rockets are clearing the salary cap decks for the chance to land 2013′s most coveted free agent. But will the addition trump the subtractions?
In order to clear enough cap space for a hefty Howard offer, backup guards Aaron Brooks and Carlos Delfino were released and rookie power forward Thomas Robinson was shipped to Portland in exchange for two second-round picks and the rights to a pair of European players.
On the surface, they are giving up next to nothing. Brooks hardly played last season, Delfino averaged 10.6 points per game, and Robinson made little impact after being acquired in a trade from Sacramento in February. After all, Howard brings dominating defense and rebounding to the table, not to mention championship experience.
However, for all his positives, Howard is not without negatives. He has very few back to the basket moves, can't hit a jumper, is a terrible free throw shooter and below average passer, has a tendency to put forth a minimum effort, and lacks discipline when it comes to fouls.
Pairing Howard with James Harden looks great on paper, but it looked great with Kobe Bryant, too. The Western Conference is packed with quality teams. The addition of Howard will no doubt improve Houston's odds, but it by no means vaults them to the top of the contenders list. Oklahoma City, San Antonio, Golden state and the Clippers are still loaded.
And what if Houston doesn't land Howard? What if stays in L.A. or joins the Warriors or Mavs? The same Rockets roster barely qualified for the playoffs remains, minus a promising prospect in Thomas Robinson. The Kings dumped Robinson because they care more about finances than winning. The Rockets sent him packing because he appears to be a long-term project.
But Robinson isn't the first high draft pick big man to struggle early in his career. The transition from college to the pros isn't easy, even for guys with NBA ready bodies. David West was miserable in his first two seasons. It took Tyson Chandler five years to become a reliable starter. Zach Randolph looked like a bust until his third season.
Obviously the Rockets want to win now and they feel Howard gives them the best chance. For the amount  of money they are willing to commit, they better be right.
No Comments