Safest 2013 NBA Draft Picks
Added on Jun 27, 2013 by Scott in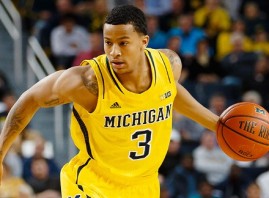 There's no such thing as a "can't-miss" prospect. Sure, LeBron James was destined to be a superstar, but if he shredded both his knees before age 20, he probably wouldn't be holding two championship trophies today. Point being, even a wunderkind can be derailed by injuries, bad luck and the pressures of living up to lofty expectations. That said, there are players who carry less risk than others. Here are five guys who appear to be safe bets in tonight's NBA Draft.
Anthony Bennett (UNLV) – If not for a torn rotator cuff that required surgery in May, the concerns about Bennett would be few. His 240 lb frame is built to bang on the blocks and he has enough shooting touch to drain jumpers. At 6'7″, some pundits will argue he's not tall enough to play inside, but his all-around game bears a striking resemblance to Kawhi Leonard, who shined in the NBA Finals. He'd be a perfect fit with the Suns at #5.
Trey Burke (Michigan) – Bigger point guards like Russell Westbrook and Derrick Rose intrigue most general managers, but what makes a great point guard is explosiveness and the ability to score from anywhere on the floor. Burke possesses those skills, despite his smallish 6'1″ frame. Watch his tourney tape from March and you'll see a Tony Parker in the making. Burke is savvy, fearless, and deadly from long range. He shouldn't fall past the Pistons at #8.
Otto Porter (Georgetown) – Whispers are circulating that Porter could be taken first overall if the Cavs keep the pick. It's not out of the realm of possibility, because the 6'8″ swingman has a versatile skill-set that should translate to the pro level with ease. He's as polished as any prospect available and has the added benefit of being a solid defender who doesn't shy away from contact in the paint. If Cleveland and Orlando bypass him, the Wizards will waste little time calling his name.
Cody Zeller (Indiana) – Zeller isn't an imposing center who will dominate with physical strength. What he is is a big man who can run the floor and smoothly attack the rim. Like Porter, he can do a variety of things well without jumping out of the box score. It will take the right team and coach to best utilize Zeller's talents. Expecting him to blossom into an All-Star would be foolish, but the kid can become a reliable contributor for a team with other scoring options.
Tim Hardaway Jr. (Michigan) – Has excellent bloodlines and should land on a decent roster near the bottom of the first round. He's a tremendous athlete who can shoot and defend. What's not to like? Think Lance Stephenson from the Pacers, except with better range. The Bulls and Knicks would be wise to consider him at #20 and #24, respectively. He should develop into a nice role player within two years.
No Comments