Spurs Sign Tony Parker To Multi-Year Extension
Added on Oct 30, 2010 by Jason Kearney in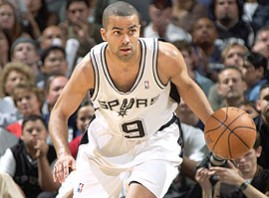 Eva Longoria's husband is going to stay in San Antonio for awhile.  The Spurs have signed point guard Tony Parker to a multi-year contract extension, reportedly a four year deal worth $50 million.  Parker is in the final year of his old deal and there had been plenty of speculation about his future with the team.  There had been trade rumors involving Parker in the offseason, including a scenario where he would have ended up with the Portland Trailblazers.  Obviously the new contract puts an end to all of that, and Parker will likely finish his career with the Spurs.
The Spurs had already signed Manu Ginobili and Richard Jefferson to new deals in the offseason, so they've now got the nucleus of their NBA Championship teams under contract.  Tim Duncan has only one year remaining on his deal after this season and at age 35 he may be ready to call it a career.  Parker is only 28 years old despite being a 9 year NBA veteran–he's played his entire career in San Antonio joining the Spurs at age 19.
According to Parker, his first option all along was to stay in San Antonio:
"I didn't mind playing through the year and be a free agent. But it was my first option and for my wife was to stay in San Antonio."
Coach Greg Popovich is also glad he's going to be staying with the Spurs:
"He's a character guy. And I just don't know what else to say about him and it's reflected in the extension that we gave him. That's how we feel about him."
Parker also had kind words for his coach and teammates:
"It's home here. I love being with Pop. I love being with Timmy and Manu. I'm happy to keep the adventure going with them."
Parker struggled through an injury plagued 2009-2010 campaign, but for his career has averaged 16.6 points and 5.7 assists per game. He had his best season as a pro in 2008-2009 averaging 22 points per game.
No Comments