Who Can Challenge the Heat in 2014?
Added on Jun 21, 2013 by Scott in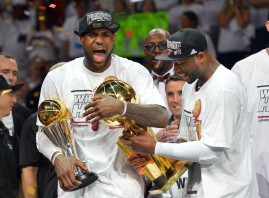 It was far from easy, but the Miami Heat completed their quest to win back-to-back titles. Love him or loathe him, LeBron James was magnificent in Games 6 and 7, scoring 69 points, grabbing 22 rebounds and dishing 15 assists. As he did a season ago, James carried his team when they needed him the most. And like all elite players, he didn't buckle under the weight of cementing his legacy as one of the All-Time greats.
While James and the Heat celebrate this summer, the rest of the league will attempt to build rosters capable of knocking Miami from their throne. Few teams will come close to bouncing the champs, but here are five that could get the job done.
Indiana Pacers – With rising stars Paul George and Roy Hibbert, Indiana might be best equipped to beat the Heat. They took Miami to seven games in the Eastern Conference Finals and learned a valuable lesson about performing in the spotlight. Adding another proven scorer is necessary. Maybe Danny Granger's knees will finally heal, or maybe Lance Stephenson will develop into a reliable offensive option.
Oklahoma City – The 2012 runner-ups couldn't overcome the loss of Russell Westbrook in the playoffs. If he returns healthy and a consistent post threat is added to the mix, the Thunder should be in excellent position to conquer the Wast again. Kevin Durant is second to only James on the planet, and is coming off his best all-around season. Kevin Martin must be more consistent. He was decent, but not a suitable replacement for James Harden.
Golden State – Stephen Curry morphed into a superstar in the postseason. Harrison Barnes has the skills to become one of the league's better small forwards. David Lee, when healthy, is a double-double machine. Improving on defense and getting stronger across the roster will prepare the Warriors for the rigors of advancing to the Finals. Signing a stopper such as Andre Iguodala would be wise, if they can afford his price tag.
Chicago – Derrick Rose did the smart thing by staying off the court for an entire year. Rushing back from his knee reconstruction could've set his career back years, not to mention ruined the Bulls' odds to contend. When 100%, Rose is behind only James and Durant. They still don't have a player who can adequately shadow LeBron, but they aren't alone in that department. Jimmy Butler's ascension is critical to their immediate future, as is finding a consistent three-point sniper.
Memphis – The Spurs were dangerous in 2013 because they could score from all areas on the floor. The Grizzlies can pound the ball inside as well as any team, but they are extremely poor from the perimeter. Signing or drafting a couple of shooters has to be a top priority entering the offseason. Quincy Pondexter is solid, but he needs help. Memphis shocked a lot of pundits in the playoffs. However, to make another successful run in 2014 they have work to do.
No Comments