2013 NFL Preview: Atlanta Falcons
Added on Aug 19, 2013 by Scott in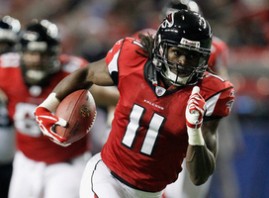 After years of flirting with contender status, the 2012 Atlanta Falcons led by quarterback Matt Ryan finally won a playoff game and came within a few points of advancing to the Super Bowl. Entering this season, the Falcons are a popular pick to take the final step and claim the NFC title. In a conference loaded with promising teams, getting over the hump won't be easy, but Atlanta is poised to make a serious run.
Atlanta Falcons – An already potent offense swapped out Michael Turner for ex-Ram Steven Jackson, which should improve a stagnant rush attack. Matt Ryan is coming off his best season and is firmly entrenched in his prime. Second-year receiver Julio Jones is a budding superstar, and tight end Tony Gonzalez put off retirement for one last shot at a ring. On defense, the front seven added Osi Umenyiora and waved goodbye to cornerbacks Dunta Robinson and Brent Grimes.
Player in the spotlight: Desmond Trufant – The 2013 first-round pick is being thrust into a starting role, for better or worse. The Falcons past playoff woes were largely due to an overmatched secondary, so Trufant's progression will be vital against the likes of Drew Brees, Tom Brady, Aaron Rodgers, Cam Newton, Robert Griffin III, Colin Kaepernick, and Russell Wilson. If Trufant can't adapt to the pro level immediately, problems will ensue, because there is no proven depth behind him.
Trouble spot: Pass rush – The steady John Abraham was replaced by the inconsistent Umenyiora, who was a disappointment for the Giants the last two seasons. On the other side, Kroy Biermann has notched only 16.5 sacks in five years. Unless Jonathan Massaquoi or Cliff Matthews suddenly morphs into a reliable contributor, the entire front seven will be relying on Osi to provide pressure on opposing quarterbacks. Combine a weak pass rush with a questionable secondary and you have a recipe for disaster lying in wait.
Fearless forecast – Atlanta picked a fine time to go young in the secondary. Their 2013 prospects will fall on Ryan and the rest of the offense's shoulders. The schedule is brutal and Sean Payton is back for the Saints. A division crown might be difficult to earn, but a 10-6 record and a Wildcard berth should be in order.
No Comments