2013 NFL Preview: Carolina Panthers
Added on Aug 21, 2013 by Scott in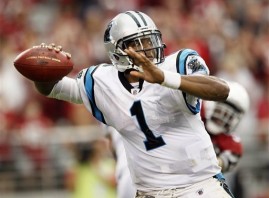 The Cam Newton era is off to a not-so impressive 13-19 start. Of course blaming Newton for the team's failings isn't telling the whole story. The "new age" dual threat quarterback has accounted for 62 touchdowns in two seasons. Problem is the front office has done a poor job of surrounding him with scary talent. Steve Smith is 34. Brandon LaFell has never eclipsed 700 yards. The backfield is aging and injured. Will the 'Cats take the next step in 2013? Let's take a look.
Carolina Panthers- It's playoffs or bust for head coach Ron Rivera. And committing tons of cash to DeAngelo Williams and Jonathan Stewart, and completely ignoring the skill positions in free agency and the draft isn't helping matters. In a division chock-full of elite signal-callers, receivers and backs, Carolina is placing all its hopes and dreams on Newton's arm and legs. Cam is good, but he's not Superman. On the bright side, the defense is solid, led by 2012 Defensive Rookie of the Year Luke Kuechly.
Player in the spotlight: Steve Smith – Through no fault of his own, Smith is once again being relied upon to carry the playmaking load (besides Cam). The good news is he's been healthy of late, having not missed a game since 2010. The bad news is he's lost a step and has scored a total of 20 touchdowns in the last four years. Unless LaFell transforms into a consistent threat on the other side, defenses will continue to focus on limiting Smith's production. If he can't channel his younger self, the Panthers will struggle to keep pace with the conference's elite.
Trouble spot: Running back – Stewart is hurt, as usual. Williams is 30 and hasn't logged 200-plus carries since 2009. Mike Tolbert isn't being used properly. Newton cannot be the leading rusher on this team. Russell Wilson has Marshawn Lynch. Colin Kaepernick has Frank Gore. RG III has Alfred Morris. Mike Vick has LeSean McCoy. Somebody needs to be "that guy" for Cam. Unfortunately for the offense, that guy doesn't appear to be on the roster.
Fearless forecast – Besides a rough division slate, the Panthers also get Seattle, San Francisco, New England, Minnesota, and the Giants. Barring an unforeseen uptick in scoring, surpassing 7-9 or 8-8 seems improbable. Drafting a running back and wide receiver must be a priority in 2014.
No Comments