2013 NFL Preview: Chicago Bears
Added on Aug 27, 2013 by Scott in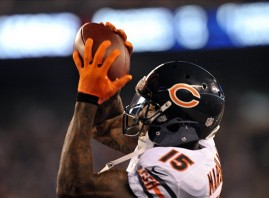 After 81 wins in nine years, one trip to the Super Bowl, and another to the NFC Championship, Chicago Bears head coach Lovie Smith was fired last December. The foundation from last year's 10-6 campaign is still in place, minus future Hall of Famer Brian Urlacher, who retired in the offseason. New head coach Marc Trestman was plucked from the CFL and is expected to rejuvenate a stagnant offense. In a crowded NFC, can the 2013 Bears return to the playoffs? Here's a preview.
Chicago Bears – Trestman has a track record of engineering high octane attacks, and the Bears are long overdue for a makeover. Quarterback Jay Cutler completed 255 passes in 2012, 118 of which went to Brandon Marshall. The lack of playmakers behind Marshall and Matt Forte is alarming. Second-year receiver Alshon Jeffery and free agent tight end Martellus Bennett need to pick up the slack or Trestman's scheme will fall flat. On defense, the duo of currently hurt D.J. Williams and rookie Jon Bostic will look to fill the void left by Urlacher.
Player in the spotlight: Henry Melton – The offense is obviously a work in progress, but the defense has enough pieces to keep the team in games, provided Melton can stay healthy and be as dominant as he was in 2012. Without a proven commodity like Urlacher manning the middle, Melton will be asked to collapse the pocket and stuff the run. He's been dealing with a concussion this summer, so avoiding any setbacks is something worth monitoring throughout the early part of the season.
Trouble spot: Offensive line – A much maligned line allowed 44 sacks last year, but instead of standing pat again, the front office added some help in the form of ex-Saints left tackle Jermon Bushrod and former Jets left guard Matt Slauson, and drafted Oregon's Kyle Long to play right guard. If the new and "improved" starting five can jell quickly and give Cutler time to attack down field, the Bears could morph into a semi-dangerous offense. However, if they keep getting Cutler killed, it will be another year sitting home in January.
Fearless forecast – Like Chip Kelly in Philly, Trestman is being touted as a playcalling "genius." Unlike in Philly, he actually as a solid defense to back his efforts. Leapfrogging the Packers won't be easy. A Wildcard spot is within reach, but the NFC has very few, if any, pushovers. The first seven weeks on the schedule is brutal. 10 wins is doable, but it looks like deja vu all over again, meaning no playoffs.
No Comments