2013 NFL Preview: New Orleans Saints
Added on Aug 22, 2013 by Scott in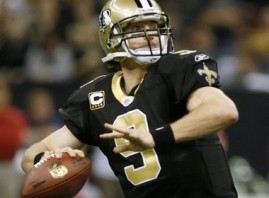 With "Bountygate" and Sean Payton's year-long suspension in the rear window, the New Orleans Saints can get back to the business of contending for another title in 2013. They finished number one in passing offense in 2012, but fielded a defense that yielded the most yards in league history. Overrated defensive coordinator Rob Ryan was hired to "fix" the unit, and as long as Brees is engineering 30 points per game, Ryan should be able to plug a few of the holes. Can the Saints return to dominance this season? Here's a preview.
New Orleans Saints – Drew Brees hasn't thrown for less than 4400 yards since 2005, and has eclipsed 5000 yards three times during that time frame. Incredible. He's also durable, having missed only one start in the last eight years. If he's healthy, the Saints will be a threat to win the NFC South, especially with Payton calling plays. The aforementioned Rob Ryan has been tasked to employ a 3-4 alignment that underwhelmed in Dallas. Can Will Smith play OLB? How much does Jonathan Vilma have left? Is free agent cornerback Keenan Lewis the answer to a woeful secondary? They don't have to be great on defense, but they have to show up most weeks.
Player in the spotlight: Cameron Jordan – The third-year defensive end was one of the lone bright spots in 2012; he notched 67 tackles and led the team in sacks with 8. Transitioning to a 3-4 edge anchor seems to fit his size and skill-set, so he could thrive in Ryan's scheme. For the unit to climb out of the sewer, the pass rush must improve. Jordan is the likeliest candidate to become a Pro Bowl caliber player on an otherwise questionable front seven.
Trouble spot: Wide receiver – Marques Colston always produces, but he's also always dinged. Lance Moore is coming off his first 1000-yard season, but he's also always dinged. Beyond those two are a pair of rookies, Nick Toon and Kenny Stills. Each youngster is oozing potential, and tight end Jimmy Graham is better than most starting wideouts in the league, but the lack of depth is a concern for an offense that relies on the pass to score.
Fearless forecast – The schedule is bumpy with trips to Chicago, New England, and Seattle lying in wait. Ryan is an average coordinator, but he has some decent pieces to maneuver. The Payton-Brees combo is downright deadly. A 11-5 record and a division crown sounds about right.
No Comments