2013 NFL Preview: Philadelphia Eagles
Added on Aug 14, 2013 by Scott in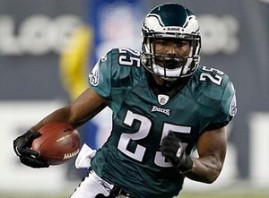 The Andy Reid era in Philadelphia ended with a thud in 2012 as the Eagles finished 4-12, the worst record since Reid's first season in 1999. As a result, owner Jeffrey Lurie held true on his promise to make sweeping changes and replaced Reid with Oregon Ducks wunderkind Chip Kelly. The media's fascination with Kelly and the Birds' high profile quarterback duel has dominated offseason headlines, but how good can this rebuilding team be in 2013? Here's a preview.
Philadelphia Eagles – Kelly's offensive wizardry and the Mike Vick vs. Nick Foles training camp battle has overshadowed the Eagles biggest hurdle: a porous defense that could be worse than the one that ranked 29th in 2012. New coordinator Billy Davis is attempting to cobble together a hybrid 3-4 with 4-3 leftovers, pedestrian free agents, and unproven first- and second-year players. Season-ending injuries to Jeremy Maclin and Arrelious Benn has left the receiving corps scrambling. LeSean McCoy and DeSean Jackson are star weapons, but behind them are numerous question marks.
Player in the spotlight: Michael Vick - Kelly has yet to tip his hat in favor of Vick, although the majority of beat writers and national pundits believe Vick will get the nod, due to his experience and athleticism. Even if Vick does win the job, there's no guarantee he'll keep it the whole season. Odds are both he and Foles will see time. After all, Kelly is evaluating for both the future and present. Vick's injury history and ball security problems are working against him, but his unique skill-set remains an intriguing tease.
Trouble spot: The entire defense – Davis faces the daunting task of improving a unit that lacks one true superstar. Trent Cole is a solid pass rusher, but expecting him to become an OLB at age 30 is wishful thinking. Mychal Kendricks, Fletcher Cox, and Brandon Boykin must become legit starters for this defense to have any shot of stopping opponents. The secondary, in particular, is a concern; free agents Bradley Fletcher, Cary Williams, Patrick Chung, and Kenny Philips are average defensive backs being counted on to contribute every week.
Fearless forecast – Some weeks, the Eagles are going to look good. Other weeks, they are going to look awful. Such is life for a rookie coach installing new systems on both sides of the ball. By season's end, they might be a tough out, but the best they can hope for in Kelly's first year is 6-10 or 7-9.
No Comments