2013 NFL Preview: Tampa Bay Buccaneers
Added on Aug 23, 2013 by Scott in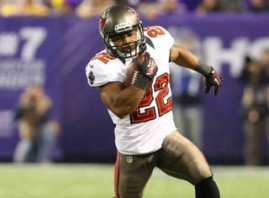 The 2012 Tampa Bay Bucs' defense  pulled off a dubious statistic by ranking first against the run and last against the pass. In order to prevent a repeat disaster, the front office traded for Jets All-Pro cornerback Darrelle Revis, signed 49ers free safety Dashon Goldson, and drafted Mississippi State corner Johnthan Banks. The offense has a chance to be one of the league's most explosive attacks, providing quarterback Josh Freeman avoids a prolonged slump. Here's a preview of the 2013 season.
Tampa Bay Bucs – Head coach Greg Schiano appears to be wielding a short leash on Freeman. Rookie Mike Glennon has looked good in preseason games and he could find himself under center if Freeman gets off to a shaky start. Doug Martin was a marvel as a rookie and is expected to fuel the offense. The revamped secondary should prevent a litany of high scoring shootouts, but the lack of a steady pass rush remains a concern.
Player in the spotlight: Da'Quan Bowers – Freeman is under a microscope, but Bowers is clinging to a job. The third year defensive end has totaled 38 tackles and 4.5 sacks in two years. With Michael Bennett now in Seattle, Bowers is being tasked to assume a larger role and become a consistent edge rusher. He's being pushed by ex-Eagle Daniel  Te'o-Nesheim, who outperformed him a season ago with 40 tackles and 4 sacks, so don't be surprised if Bowers finds himself benched at some point.
Trouble spot: Tight end – Luke Stocker and his 28 career catches are listed atop the depth chart. In a league where tight ends are being utilized all over the field, Tampa boasts one of the worst situations, which won't do the embattled Freeman any favors. The offensive scheme values blockers like Tom Crabtree over pass catchers, but not having an additional down field weapon leaves the Bucs firmly behind the eight ball.
Fearless forecast – The Bucs are a difficult team to figure. Talent wise, they are loaded at several positions. That said, they are still looking up at the Falcons and Saints, and also face New England, San Francisco, and Seattle. If Freeman doesn't flop and the secondary is stout, they could challenge for the division. However, 8-8 is more likely.
No Comments