2013 NFL Preview: Washington Redskins
Added on Aug 16, 2013 by Scott in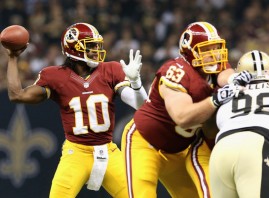 The most important ACL in professional football this offseason belongs to Redskins quarterback Robert Griffin III. After undergoing surgery in January, the team, and the rest of the league, have been eagerly waiting to see if Griffin would mirror the supernatural healing powers of Adrian Peterson and be ready for Week 1. The jury is still out, as Mike Shanahan has wisely been cautious with his franchise signal-caller in training camp. Can Washington repeat their 2012 heroics in 2013 with or without a fully healthy RG III? Let's take a look.
Washington Redskins – A plethora of walking wounded players on both sides of the ball are being relied on to return to form, including both starting OLBs, Brian Orakpo and Ryan Kerrigan, as well as wide receiver Pierre Garcon and tight end Fred Davis. Depth at pretty much every position except running back is a concern for Shanahan. Griffin's knee is rightfully garnering the most attention, but slow recoveries or new injuries will doom a team that faces Green Bay, Chicago, Denver, Minnesota, San Francisco and Atlanta.
Player in the spotlight: Alfred Morris – RG III is the obvious choice, but Morris is critical to the Redskins chances of repeating as division champs. His unexpectedly brilliant rookie season vaulted him into the conversation of the game's elite runners. There's no reason to think he's a one-year wonder, so Shanahan should lean on him, especially until Griffin is fully healed. Roy Helu and Evan Royster are both capable backups, but neither possess Morris' speed-power combination.
Trouble spot: Safety – Counting on journeyman Brandon Meriweather and 6th-round pick Bacarri Rambo to defend the back end is risky. The Giants, Cowboys and Eagles all have the ability to attack this vulnerability with intermediate and deep routes. Rambo has the skills and hitting prowess to be a keeper, but he's still a rookie. Defensive coordinator Jim Haslett will have to be crafty to avoid being exploited on a weekly basis. Reserves Reed Doughty and DeJon Gomes offer little to no help.
Fearless forecast – Griffin will have to be healthy from day one for the Redskins to be a contender. Oakland and San Diego are the only easy outs on an otherwise brutal schedule. They will remain fun to watch, but 8-8 is a realistic prediction.
No Comments