5000 Yards Could Be A Bad Thing For Chargers
Added on Nov 11, 2010 by Scott in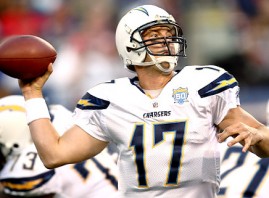 Philip Rivers is on pace to throw for 5200 yards this season. If he reaches that figure it would surpass Dan Marino's 1984 record setting campaign of 5084 yards. This is great if you have Rivers on your fantasy team, but it might not be such a good thing for the Chargers playoff hopes. At 4-5, San Diego has won two straight games and is still very much alive to win the AFC West division. However, the last team with a quarterback who tossed for 5000 yards found themselves sitting at home in the postseason.
That team was the 2008 New Orleans Saints, and the quarterback was, of course, Drew Brees. They were number one across the board in passing offense, but finished 28th in rushing. To be fair, the defense was below average in most categories and allowed 30 points or more in five games, so that obviously played a role in the team finishing 8-8.
That being said, their inability to run the ball made them one-dimensional and led to shootouts every week. This should take nothing away from Brees' amazing accomplishments; if not for him, the Saints would've been a 3-13 train wreck. But the fact remains without a balanced offense, the Saints never reached the level of a contender. By contrast, last year's Super Bowl-winning team ranked 6th in rushing  and despite another below average defense, went 13-3 in the regular season.
Are this year's Chargers doomed to mirror the 2008 Saints? They currently have the 14th best rush offense, which isn't bad considering they've called 90 more passes than runs. In addition, their defense ranks second in yards allowed, but 18th in points. Not terrible — not all that spectacular either.
If rookie running back Ryan Mathews can stay healthy and become a bigger factor, coupled with the return of Antonio Gates and Malcolm Floyd from injuries, and Vincent Jackson from suspension, the Bolts offense could be unstoppable. However, relying on Rivers to do it all every week in an improved AFC West is dangerous. The defense is solid, although the league's worst special teams is hurting them with blocked punts, return touchdowns and short fields.
If Rivers does end up breaking the single season passing yards record, it still might be enough to get them to the postseason. But playing in cold weather cities like Pittsburgh, New York and Baltimore in January without a strong run game to lean on will prove a major challenge for the warm weather Chargers.
5000 yards looks sexy in the headlines, but for a team that has struggled to meet expectations in recent years, it could be the worst possible news.
No Comments