A 59 yarder Makes the Colts 0-2 in Division to Start the Season
Added on Oct 04, 2010 by Eric Galko in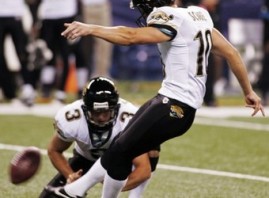 Peyton Manning and the Colts have been one of the staples of the AFC South and one of the consistent Super Bowl favorites from the AFC.
But as Peyton Manning and the rest of the offense goes through transitions from past offensive line and defensive players and have gotten up their in age, they are becoming more and more vulnerable. So now with the Texans winning in Week One and the Jaguars upsetting the Colts this past Sunday, it's time to reconsider the Colts stranglehold on the AFC South.
Josh Scobee of the Jacksonville Jaguars hit a 59 yard field goal on the games last drive to upset the Colts. Earlier in the season, the Houston Texans played very impressively and rode Arian Foster to a win.
What does this mean for the future of the Colts and AFC South?
It shows that the Colts are no longer invisible, and they are still no lock to be the AFC South representative for the playoffs. Next up, we'll see if Tennessee can keep the Colts losing streak in division going.
No Comments