Back in Black and Yellow: Big Ben Returns to Pittsburgh Steelers
Added on Oct 05, 2010 by Eric Galko in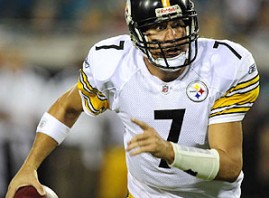 It's been four long weeks for the start of the Steelers season. But after a quarterback carosel that utilzed Byron Leftwich (now injured), Dennis Dixon (injured and on IR) and the ageless Charlie Batch, they'll find get a chance to go into a weekend without quarterback questions…sort of.
Ben Roethlisberger is back from his off-season suspension, and as the team goes into the bye week, reports are that he's the unquestioned starter for the Pittsburgh Steelers once again.
After having his suspension was reduced from six to four games, it was pretty evident why four was the magic number. After a 3-1 start, somewhat surprising for how impressive they've been without him, Big Ben will return to his team on a bye week and get a chance to start his season with two weeks of preparation.
With the play of Rashard Mendenhall, Hines Ward, and Mike Wallace, as well and maybe especially the defense, Big Ben will once again inherit a Super Bowl contender.
However, it will likely come down to whether he can readjust and sync with his teammates, not just his receivers, but the entire locker room.
He'll get two weeks to prepare for his first start of the year, and while Charlie Batch played decent enough as the starter, all eyes will be on Big Ben for his return and hopeful run for the Super Bowl.
No Comments