Donovan McNabb vs. Nate Allen: True Match-Up to Watch
Added on Oct 01, 2010 by Eric Galko in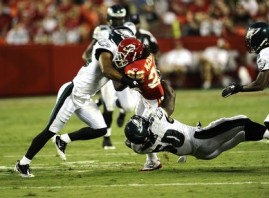 A classic quarterback vs. safety match-up, right? Not necessarily.
Not only will McNabb vs. the Eagles fans be something to watch and something to see how it impacts the game and the future of both parties. But Eagles fans will get to see, as well as they may ever be able to, if trading Donovan McNabb ended up being the right move.
Donovan McNabb was traded in the division, to the Redskins, for a 2nd pick (57th overall). The Redskins got a quarterback they can finally call their unquestioned quarterback to start the season.
And the Eagles used the draft pick on Nate Allen, current starter at safety and reigning defensive rookie of the week last week.
Allen has already said that he feels no added pressure in playing against the man he ended up being traded for, but Eagles fans will, and probably should, take great notice of how Allen performs in this game and in the future. Because, as we'll see this season and in the near future, they dealt their franchise quarterback for a franchise safety.
No Comments