Fantasy Football: Is Tim Tebow a Fantasy Stud?
Added on Dec 20, 2010 by Barry in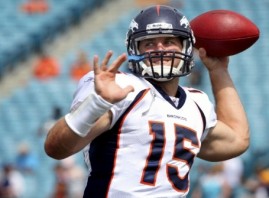 There is no question at this point in the NFL regular season that the Denver Broncos are arguably one of the worst teams in the league as they have played very poorly throughout the entire year, but heading into Week 15 there seemed to be some light at the end of the tunnel as Broncos decided to start one of their most popular rookie quarterbacks in franchise history in former Heisman trophy winner Tim Tebow.
Even though the Denver Broncos playoff hopes have been shattered as they have only won three games on the season, the highly anticipated start of Tebow under center was enough to get Denver Broncos fans looking forward to this weekend's showdown with the division rival Oakland Raiders.
Earlier in the season, the Oakland Raiders traveled to the Mile High City and absolutely dominated and embarrassed the Denver Broncos by lighting them up for a franchise record 59 points. As if that weren't bad enough, the Raiders held the Broncos offense to just two touchdowns and basically showed to the rest of the league that they were the real deal and Denver were in for a long season of disappointment.
With the Broncos struggling on both sides of the football every single week and firing head coach Josh McDaniels, it seemed like it would be just a matter of time before the Broncos got desperate enough to put in their rookie quarterback, but they have held off until Week 15 when starting QB Kyle Orton wasn't able to go due to injury.
Fortunately, despite everyone thinking that Tim Tebow was going to really struggle in his first start, the former Florida Gators superstar played pretty well with 226 total yards (138 passing, 78 rushing) and two total touchdowns (one passing, one rushing). Even though these numbers are somewhat impressive for a rookie in his first start, Tebow did throw an interception and looked uncomfortable throwing the football.
Despite a performance that he could definitely improve on, the rookie QB could be a viable option as a backup in the coming weeks on your fantasy football team as he seems to be a threat with both his arm and his feet. Don't get me wrong, he is no Michael Vick, but he might come in handy with 20+ point performances if he continues to get the starts for the Broncos.
No Comments