Fantasy Football: Sit 'Em Week 15
Added on Dec 16, 2010 by Barry in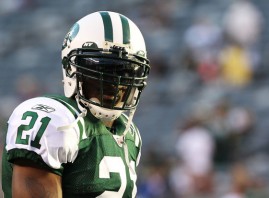 Quarterback
Matt Cassel, Kansas City Chiefs
The Kansas City Chiefs will be coming into Week 15 after a devastating loss to the division rival San Diego Chargers (31-0), but they played that game without their starting quarterback as Matt Cassel was recovering from an appendectomy.
This week Cassel might be under center for the Chiefs, but I wouldn't count on him putting up big numbers as he will be noticeably hurting and might give the ball to Croyle for the second straight week in a row.
Running Back
LaDainian Tomlinson, New York Jets
The New York Jets have one of the best running attacks in the NFL this season, but that won't be the case in Week 15 as Rex Ryan's squad will be going up against the best run defense in the league in the Pittsburgh Steelers.
With that being said, starting either LT or Shonn Greene wouldn't be a wise decision.
Wide Receiver
Percy Harvin, Minnesota Vikings
The Minnesota Vikings were destroyed by the New York Giants on this past Monday night as they just couldn't get anything going offensively. With Brett Favre on the sidelines and Adrian Peterson hurt during the game, this offense fell flat and in Week 15 I expect more of the same no matter who is under center.
With Harvin hurting over the past two weeks and who is starting at quarterback up in the air right now, starting Percy would be a bad idea.
Tight End
Tony Moeaki, Kansas City Chiefs
With Matt Cassel still recovering and Brody Croyle obviously not the answer under center, the Kansas City Chiefs passing game has taken a major blow as Dwayne Bowe and up and coming tight end Tony Moeaki could be a non factor in fantasy football from here on out.
Defense
Green Bay Packers
The Green Bay Packers might have one of the best defenses in the league this season, but this Sunday they will be going up against arguably the best team and offense in the league in the New England Patriots. With Tom Brady tearing up the New York Jets and Chicago Bears defense in consecutive weeks, I expect more of the same against the Packers D.
No Comments