Fantasy Football: Sit 'Em Week 17
Added on Dec 31, 2010 by Barry in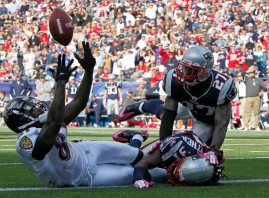 Quarterback
Jay Cutler, Chicago Bears
The Chicago Bears will be playing for pride this weekend as they take on their hated division rivals in the Green Bay Packers.
With virtually nothing on the line for the Bears and the Packers fighting for a playoff spot on their home field, the smart move would be to sit Jay Cutler as head coach Lovie Smith probably won't keep him in their for long if the Packers defense is firing on all cylinders.
Running Back
Cedric Benson, Cincinnati Bengals
The Cincinnati Bengals season was over a long time ago as they were never able get it going this year and this week they will have their work cut out for them against the Baltimore Ravens.
With the Bengals going up against the run defense of the Ravens, I wouldn't start Cedric Benson as he could be in for a long disappointing day.
Wide Receiver
Anquan Boldin, Baltimore Ravens
The Baltimore Ravens have already punched their ticket into the playoffs coming into this weekend's matchup with the Cincinnati Bengals, but they will still be looking to come out with the win as they have slight chance at winning the AFC North division.
Despite the Ravens still having something to play for, I wouldn't consider starting Anquan Boldin as he has been extremely streaky this season and will probably be limited this week.
Tight End
Kellen Winslow, Tampa Bay Buccaneers
The Tampa Bay Buccaneers still have an outside chance of the making the playoffs in the last week of the NFL regular season as they will need a few teams to lose, but considering the fact that they will be going up against one of the hottest teams in the league in the defending Super Bowl champion New Orleans Saints, I am betting they will struggle and tight end Kellen Winslow will not be able to have a repeat performance of last week.
Defense
Chicago Bears
With the Chicago Bears having already clinched the NFC North division title and punched their ticket into the playoffs they really don't have anything to play for in Week 17 as they will head to Lambeau Field to take on the Green Bay Packers.
The Packers will be playing for a playoff spot as a win over their division rivals will make them playoff bound, but the Bears would only be risking the health of their best players which leads me to believe that they may not have the best day on the defensive side of the football.
No Comments