Fantasy Football: Start 'Em Week 15
Added on Dec 15, 2010 by Barry in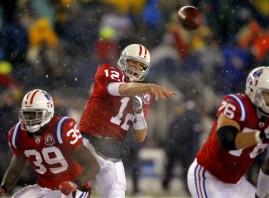 Quarterback
Tom Brady, New England Patriots
There is no player in the NFL playing at a higher level right now than the New England Patriots superstar quarterback Tom Brady. With the Pats gunslinger the frontrunner for the NFL MVP and the fact that he has just torched two of the best defenses in the NFL (New York Jets, Chicago Bears) over the past two weeks, I would say that he isn't going to cool down anytime soon and he is MUST start this week against the struggling Green Bay Packers.
Running Back
Arian Foster, Houston Texans
Much like Tom Brady at the quarterback position, the Houston Texans Arian Foster has been the most dominant running back in the league this season and will continue to put up some big numbers this weekend against the lowly  Tennessee Titans.
Obviously, the Texans are a past first team with Matt Schaub under center and Andre Johnson downfield, but starting Foster is a no-brainer this week as he should be good for 100 yards and a touchdown.
Wide Receiver
Andre Johnson, Houston Texans
There is no question that Andre Johnson is amongst the best wide receivers in the league today and perhaps the best, but he will almost certainly put on a show this weekend as the Houston Texans take on the Tennessee Titans and Cortland Finnegan for the second time this season.
Johnson and Finnegan will almost certainly not be throwing blows this week, but Andre will definitely try to lit him up for a lot of yards and as many touchdowns as possible!
Tight End
Vernon Davis, San Francisco 49ers
The San Francisco 49ers might not be the team that people thought they would be coming into this NFL regular season, but last weekend they sure looked like it as their offense came on strong and put up a season-high 40 points against the division rival Seattle Seahawks.
In Week 15, the 49ers will travel to San Diego to take on the Chargers, even though Philip Rivers and company will most likely come out on top, expect tight end Vernon Davis to have a good day with some big numbers.
Defense
Pittsburgh Steelers
No defense in the NFL has played better than the Pittsburgh Steelers and this week James Harrison and company will look to have a field day against the struggling offense of the New York Jets.
No Comments