Fantasy Football: Start 'Em Week 17
Added on Dec 30, 2010 by Barry in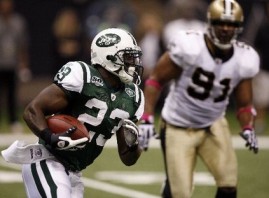 Quarterback
Tim Tebow, Denver Broncos
This week in fantasy football is by far the worst for quarterbacks as most teams plan on resting their QBs for the postseason, but the one quarterback that will have the best week of them all will be rookie Tim Tebow.
With 22 points last week and the same number projected this week, Tebow is a lock right now!
Running Back
Shonn Greene, New York Jets
The New York Jets looked like they were in trouble for awhile there and in danger of missing the playoffs, but they have been able to get back on track and clinch a playoff berth and with that being said I believe they may stick to the running game this weekend against the division rival Buffalo Bills.
With the Jets wanting to give LT some rest, the youngster Shonn Greene will most likely be getting the bulk of the carries.
Wide Receiver
Vincent Jackson, San Diego Chargers
The San Diego Chargers will not be headed to the playoffs this season despite being able to turn things around, but they will be looking to light up the Denver Broncos defense this weekend in the Mile High City which could mean big numbers for Pro Bowl wide receiver Vincent Jackson.
Tight End
Jason Witten, Dallas Cowboys
The Dallas Cowboys have been out of playoff contention for a long time before heading into the final week of the NFL regular season, but they have played fairly well ever since replacing head coach Wade Phillips with Jason Garrett, especially on offense.
With that being said, I believe tight end Jason Witten could be in for a big day this week as they will be going up against a Philadelphia Eagles defense that will be playing second stringers.
Defense
Green Bay Packers
The Green Bay Packers are already in playoff mode right now as they know a loss to the division rival Chicago Bears this weekend ends their season, but even though the Bears are a very good football team, I believe Clay Matthews and company will be putting on a show at Lambeau Field this weekend.
No Comments