Fantasy Football: Week 16 Pickups
Added on Dec 21, 2010 by Barry in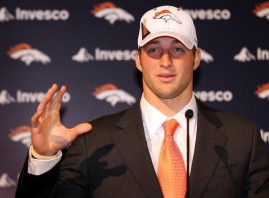 Quarterback
Tim Tebow, Denver Broncos
The Denver Broncos have failed to live up to expectations this season as they have fired head coach Josh McDaniels and won only three games coming into Week 16, but they might have some light at the end of the tunnel as rookie QB Tim Tebow has been given the starting job and played pretty well against the Oakland Raiders in Week 15.
Even though Tebow will never be known as a dominant passer in this league, he can hurt defenses with his feet which could be huge for fantasy football owners.
Running Back
Donald Brown, Indianapolis Colts
The Indianapolis Colts are not a running team and as long as Peyton Manning is under center they never will be, but Donald Brown did have a breakout performance last week in the win over the Jacksonville Jaguars with 129 yards and a touchdown on the ground.
Picking up a Colts running back is something that never really seems like a good idea, but with Peyton's receivers being as banged up as they are, Brown might get more carries in the next two weeks.
Wide Receiver
Blair White, Indianapolis Colts
It is no secret up to this point in the NFL regular season that the Indianapolis Colts are pretty banged up and four-time NFL MVP quarterback Peyton Manning is running out of options in the offense, but he has gotten some surprisingly good results out of wideout Blair White.
With Austin Collie most likely watching from the sidelines this weekend in Oakland, the Colts will probably look to White to get some more production in the passing game against the Raiders.
Tight End
Owen Daniels, Houston Texans
Last season Owen Daniels was arguably one of the best tight ends in the league before going down with a season-ending knee injury, but this season he hasn't made much of an impression as he has failed to get back to form, but he might be worth a pickup for Week 16 as the Houston Texans will be taking on the weak secondary of the Denver Broncos.
Defense
St. Louis Rams
Even though the St. Louis Rams aren't known for their defense and probably won't be for quite some time, they do have a favorable matchup this weekend against the division rival San Francisco 49ers. Without star running back Frank Gore putting points on the board in the ground game, the 49ers will have to go to the passing game which could increase the Rams chances of causing turnovers.
No Comments