Fantasy Football: Week 17 Pickups
Added on Dec 30, 2010 by Barry in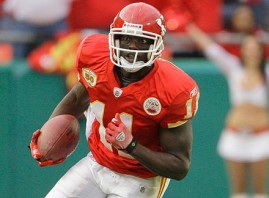 Quarterback
Tim Tebow, Denver Broncos
Even with two straight solid performances by arguably the greatest college football of all-time, a lot of people are still doubting Tim Tebow ability to be a starting quarterback in this league and in fantasy football.
In my opinion, I am sold on this kid as he will quickly become a fantasy stud and with a projection of 22 points this weekend (which is how much he had last week), I would start Tebow over the majority of quarterbacks in this league.
Running Back
Rashard Jennings, Jacksonville Jaguars
This may be a long shot here as Maurice Jones-Drew hasn't exactly been ruled out of this week's game against the Houston Texans, but on the safe side it might be wise to pick up Rashard Jennings as a precaution if you are a Jones-Drew owner.
With a projection of 17 points, Jennings could be crucial this week.
Wide Receiver
Chris Chambers, Kansas City Chiefs
The Kansas City Chiefs have officially won the AFC West division title and will be playoff bound for the first time in a long time, but chances are they will most likely sit most of their offensive starters this weekend when they take on the division rival Oakland Raiders in the last game of the NFL regular season.
With that being said, players like wide receiver Chris Chambers could be poised to have a big game as Pro Bowl caliber wideout Dwayne Bowe rests for the playoffs.
Tight End
Owen Daniels, Houston Texans
With three big performances in a row, Daniels has proven that he may be back amongst the elite at tight end and this week he could have yet another big game against the Jacksonville Jaguars.
Defense
Miami Dolphins
Yes, you might think I am a bit crazy for picking the Miami Dolphins here considered they are playing against on the best offenses in the league led by NFL MVP frontrunner Tom Brady, but believe it or not this is a solid pickup as the Patriots offense will almost certainly struggle once Brady sits down in the second half to rest for the playoffs.
No Comments