Fantasy Football: Will Tom Brady Start in Week 17?
Added on Dec 28, 2010 by Barry in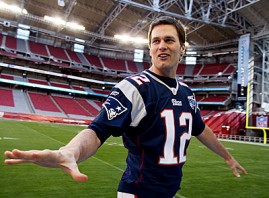 The last week of the NFL regular season is upon us and for some of you that have managed to get into the championship it is all or nothing this weekend. The toughest part about this weekend matchups is who is going to start and who is going to be rested for the playoffs.
Most of the playoff spots have been wrapped up coming into Week 17 with the New Orleans Saints, Atlanta Falcons, Philadelphia Eagles and the Chicago Bears heading into the post season in the NFC Conference (two spots remaining) and the New England Patriots, New York Jets, Pittsburgh Steelers, Baltimore Ravens and the Kansas City Chiefs in the AFC Conference (one spot remaining), but some of these teams and quite a few others still have something to play for in the last week of the regular season which is good news for some fantasy football owners.
One of the biggest question marks heading into this final week will be whether or not New England Patriots head coach Bill Belichick will elect to start, sit or limit NFL MVP candidate quarterback Tom Brady's playing time in Week 17.
Obviously, playing against the Buffalo Bills isn't much of a challenge for the New England Patriots and it is pretty much a meaningless game, but Belichick has been known for never letting his foot off the gas pedal and might look to keep his boys sharp before heading into the playoffs.
This is pretty big dilemma for Tom Brady owners though as he has become arguably one of the biggest fantasy football threats this season at the quarterback position and probably the main reason for most people making it to the championship game, but it might be wise to go with another quarterback in Week 17 as Brady might end up playing preseason minutes while he gets some much needed rest on the sidelines.
Other QBs to consider picking up for Week 17:
Tim Tebow, Denver Broncos
Sam Bradford, St. Louis Rams
Rex Grossman, Washington Redskins
No Comments