Favre Returns To Practice, Now A 'Game Time Decision'
Added on Oct 29, 2010 by Jason Kearney in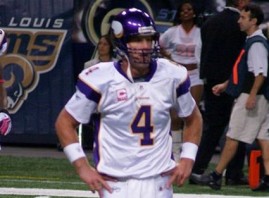 Brett Favre is still listed as 'questionable' on the official NFL injury report, but there are encouraging signs that 'The Gunslinger' will be able to start on Sunday.  He returned to practice Friday after missing the rest of the week.  He still wasn't moving great, but Vikings' coach Brad Childress called it 'encouraging'.  Obviously you're not going to get anything more committal out of Childress, but he did say that he'd probably wait until the day of the game to decide whether to start Favre or Tavaris Jackson.  Childress said earlier this week that he wouldn't consider Favre's consecutive games streak when making his call.  He said that the decision comes down to some simple concepts:
"Can he protect himself? And what gives us the best chance to win? I'm not losing any sleep over it. It will all sort itself out."
The word on the street earlier in the week was that Childress was leaning toward starting Tavaris Jackson.  The NFL Network reported earlier today that Favre has been moaning to acquaintances that he's not sure if Childress will let him play.  None of this is impacting the preparation of the Vikings' opponent this weekend–New England Patriots' coach Bill Belichick could care less what the media is saying about Favre:
"The same media reports that said Terrell Owens wasn't going to play in the Super Bowl [in the 2004 season]?"
Childress got a little snippy answering questions about Favre and decided to go all Shecky Greene and try to be funny.  Asked about how well Favre was moving:
"I'm not giving any scouting reports. Better than an iron deer on the lawn."
Was he wearing any sort of protective footwear?
"I'm not a podiatrist. I couldn't comment on that."
Will Childress talk with Favre this weekend about his condition?
"I'll speak with him, yeah, plenty. It's not like going to a confessional once a week, that I have to go to church to speak to him. He's in and around the building all the time. So the dialogue is generally ongoing. I know people view that as being called to the principal's office, when you sit in my office, but we had a pretty good conversation sitting right out here today for a long time."
What does he expect to see from Favre on Saturday?
"That he wakes up in the morning. Nothing's given, right? That he can get in here, and we'll see where he's at. That's my expectation. I don't have an expectation because I don't know. Everybody would like to know. I don't know."
If Favre can't go, Tavaris Jackson will and he gave answers that were more civil than his coach's:
"You never really know. I don't know Brett's situation, how he feels personally, but if my number's called and if I'm the guy, I'm going to be ready to play."
The latest scoop from our network of sources?  Barring an unforeseen setback on Saturday Favre will likely start.  Whether or not he plays the whole game depends on how he looks early on.
No Comments