Marshawn Lynch Traded To The Seattle Seahawks
Added on Oct 06, 2010 by Eric Galko in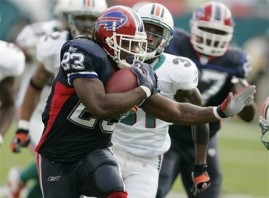 Finally, after weeks of speculation, Marshawn Lynch has been dealt from the Bills.
For a 4th round pick an a conditional 2012 5th or 6th round pick, the Seattle Seahawks will have another running back in their arsenal. However, bad news for Justin Forsett and Leon Washington, as Lynch may be the feature back as soon as he arrives on the scene.
It had been speculated for a while that Lynch would be dealt to the Packers, as they lost Ryan Grant for the year, Brandon Jackson has been very average, and they were set to pick him in the draft before the Bills scooped him up surprisingly four picks earlier.
However, GM Ted Thompson didn't pull the trigger on a likely available trade, and the Seahawks may end up being big winners at the end of the day.
Lynch was the backup in Buffalo, but he was once viewed as the feature player and the guy they would likely build around. But after a suspension, the emergence of Fred Jackson, and the newly acquired CJ Spiller, Lynch became very expendable.
Now, in Seattle, Lynch will have to beat out a very mediocre Justin Forsett and a still recovering Leon Washington, both of which are very likely. He won't be getting 80% of the carries right out the gate, but by mid season, he'll be the feature back, as already coach Pete Carroll said that he will be used "a lot."
Fantasy owners, look to pick up Lynch ASAP, while Justin Forsett and Leon Washington go down slightly, and Fred Jackson and CJ Spiller go up significantly.
No Comments