Mike Ditka Rants Like A Loon, Is 100% Correct
Added on Oct 04, 2010 by Jason Kearney in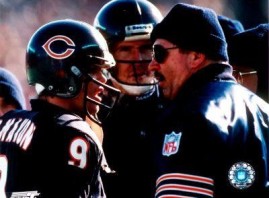 Mike Ditka comes off as slightly batty most of the time.  In many ways he's the Orson Welles of football, producing a masterpiece early in his career and not doing much afterwards.  Still, he's got the ultimate claim of 'scoreboard' of any former NFL coach.  Ditka wasn't just a successful NFL coach.  He isn't just a Superbowl winning coach.  He was the coach of in my opinion the greatest NFL football team in history, the 1985 Chicago Bears.  You can make a case for other NFL teams, but I'll say this much–were I to find myself in a comic book storyline where I had to pick a team from throughout history to take on a team of aliens with the fate of the human race in the balance the choice is a no brainer:  the 85 Bears.  If the game were held on a snowy December Sunday at Solider Field the Bears would be a lock.
Following the Bears ugly, non-competitive loss to the NY Giants on Sunday night Ditka went on the air this morning with a classic rant where he called out Jay Cutler's 'head for the game', Lovie Smith's intensity (or lack thereof) and other sundry topics:
On Jay Cutler, who was sacked 9 times in the first half:
"I don't think anybody was open down field, because they had seven in coverage, but the quarterback has to get the ball out of his hands, too. He looked like he was not even aware of the pressure around him.

"That's all part of football, the quarterback has to have that little clock in his head that says 'I have to get rid of the football.' Jay Cutler didn't have it yesterday, that's for sure. "
And the reason for the loss?  The Bears not executing their individual assignments:
"It's an individual thing. They got beat individually. It's not like the Giants had a great scheme to come after them. They came after them with four guys almost every time and beat them."
Ditka's most insightful words concerned the sideline demeanor of head coach Lovie Smith, who looked like a beaten man for most of the game.  Obviously, that's not how Ditka would have dealt with the situation:
"Lovie is a low-key guy. I couldn't believe … I would have went [psycho] yesterday. I would have been ballistic. I watched him and he had complete control and composure. I guess that's good, but you have to call somebody out. The line coach or somebody had to call these guys over.

"Football to me is a game of pride. You get what you tolerate. If you tolerate the other guy beating you, that's what you're going to get. I look at it that way. This is me and you, one on one. Forget the other guys. I'm going to win my battle, and if we have enough guys winning those individual battles, we'll win this football game. And that's the way you have to approach it."
To paraphrase Otter in the classic film 'Animal House', Ditka is right.  Psychotic, but absolutely right.  The '85 Bears would never have tolerated such a pitiful display by their own players.  Forget about Ditka.  The pride of the players would have never allowed it to happen.  It's one thing to lose a football game, another thing entirely for another team to impose their will upon you and not do anything about it.
Jay Cutler was eventually diagnosed with a concussion and mercifully didn't return for the second half.  Since he was sacked 9 times in one half, he's lucky he wasn't taken out of the Meadowlands in a bag.  The closest thing to intensity that the Bears can muster comes from Brian Urlacher:
"You don't want to see your starting quarterback get hurt."
Thanks for the insight, Brian.  Generally, I think Lovie Smith is a decent coach but Dikta is correct.  While the players bear a lot of the responsibility for letting Cutler get used as a tackling dummy, at some point the coach has to set the tone for his team.  Smith didn't do this.   There's something to be said for a low key approach as Ditka himself noted, but if you can't bring out some intensity when your team is getting dominated on the field you're in the wrong line of work.
This also gives me the opportunity to post the classic 'pantless Mike Ditka' interview footage:
No Comments