Monday Night Football Betting: New York Giants at Washington Redskins
Added on Dec 03, 2012 by Jack Thurman in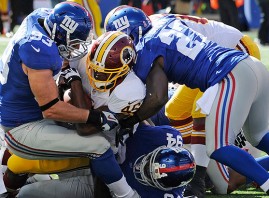 The New York Giants will try to regain control of the NFC East on Monday Night as they travel to Washington, DC to face the Redskins at FedEx Field. The Giants limped into their bye week with two straight losses but came roaring back last week in a decisive victory over the Green Bay Packers. The Redskins could tie Dallas for second place with a win here.
New York Giants at Washington Redskins
December 3, 2012 5:40 PM Pacific
The Redskins are riding a two game winning streak heading into this contest but not sure that's more of a reflection of the struggles of their opponents in these games (Dallas and Philadelphia) than anything else. Prior to these wins the Skins had lost six of their last eight games both straight up and against the spread with the only victories coming over a slumping Vikings team and in a favorable tactical matchup against Tampa Bay.
In the past few seasons the Giants have actually played better on the road than at home. Since 2010 they're 14-8 SU/13-8-1 ATS including 3-2 SU/3-1-1 ATS on the road this year. The Redskins are on a 6-15 SU/7-10-4 ATS run at home since 2010. Washington has gone 2-3 SU/ATS at FedEx Field this season. They have been a profitable investment as an underdog this year going 4-3 SU/5-2 ATS when getting points. Since 2010 as a home underdog of 3 or less Washington is 3-8 SU/3-5-3 ATS.
Recent series history favors the home team–at least from a pointspread standpoint. The Giants have won 3 of the last 5 meetings but the Redskins have covered 4 of these 5 games. They pulled off a back door cover earlier this season in New York but it's hard not to conclude that the Giants are the better team. New York looked revitalized against Green Bay last week and we're hoping that the bye week was just what they needed. Some concern that they beat a Packers' team depleted by injury on both sides of the ball but for our purposes we'll assume the best. Laying a field goal or less (game was at -2′ earlier in the week, recent moves have pushed it up to -3) we'll go with the better team–and that's the New York Giants.
Bet New York Giants -3 over Washington Redskins
No Comments