NFL Betting: Carolina Panthers at Philadelphia Eagles
Added on Nov 26, 2012 by Jack Thurman in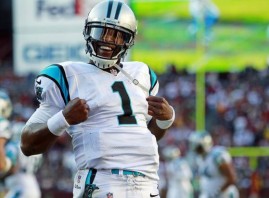 The Philadelphia Eagles may not be the worst team in the NFL but they're definitely the league's most underachieving trainwreck. From before the season when Michael Vick laughably proclaimed the team as 'a dynasty' until now the Eagles have found every way possible to unravel and implode. They'll be the host for a miserable Monday Night Football game against the Carolina Panthers–a team that has underachieved in their own right.
Carolina Panthers at Philadelphia Eagles
November 26, 2012 5:35 PM Pacific
As if things couldn't get worse for the Philadelphia Eagles they'll play this game without not only the most overrated quarterback in the NFL, Michael Vick, but also running back LeSean McCoy. Both have already quit on the season long before they were injured so the Eagles may actually be a better team with both players sidelined. Hopefully we've seen the last of Michael Vick in a NFL uniform and he'll be discarded to the ash heap of aging 'athletic' quarterbacks along with Vince Young.
The best hope the Philadelphia Eagles have is rookie quarterback Nick Foles who may be an unfinished product but has a lot of potential and competitive fire. That probably won't be enough here, however, against a Carolina team desperate for a win. Eagles' coach Andy Reid is clueless and completely out of scapegoats to throw under the bus to try and save his job. He sacrificed defensive coordinator Juan Castillo earlier this season and likely would have made Vick the fall guy had he not been injured. Reid has overstayed his welcome and deserves the fate that awaits him–he went all in on Vick after some fluky success a couple years ago after an injury to then starter Kevin Kolb and now is paying the freight for this boneheaded decision.
The Eagles are not only undermanned with a depleted offensive line trying to protect second and third string skill position players they've quit on their coach and on the season. The Panthers have plenty of issues but they're in better shape than the host and they should win and cover here. The Eagles simply don't care any more and really don't have the personnel to win this game even if they did.
Bet Carolina Panthers -2′ over Philadelphia Eagles
No Comments