NFL Betting: Houston Texans at Tennessee Titans
Added on Dec 02, 2012 by Jack Thurman in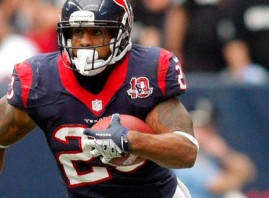 The Houston Texans are still 10-1 on the season but they've played a couple of lackluster games against overmatched opponents in their past two contests. They'll try to get back on track as they head South to take on the struggling Tennessee Titans. The Titans are coming off an embarrassing loss to arguably the worst team in the NFL–the Jacksonville Jaguars–and are a team going nowhere.
Houston Texans at Tennessee Titans
December 2, 2012 10:00 AM Pacific
Houston is coming off a pair of bad games and will have some extra rest having last played on Thanksgiving Day. Perfect setup for a 'bounce back' game—Texans on a 5-0-1 ATS run in the following game after allowing 350+ yards and they're off a pair of wins that probably 'feel' like losses. Tennessee a mess—Chris Johnson pulled a disappearing act again last week against a defense he theoretically should have dominated. Johnson looked to have finally gotten into form after a slow start to the season–he averaged 140 yards per game in the four contests heading into the game against the Jaguars. Instead he was limited to 80 yards against the league's #29 ranked rushing defense.
Texans do have a MNF game against New England on deck but the corollary to that is that they need to get back in top competitive form before facing the Pats potent offense. Texans have covered 4 of the L5 against Tennessee and I'd much rather play then than a team that was soundly beaten by Jacksonville last week in a manner the final score really didn't convey. Titans may have quit on this season–they're 1-4 SU/ATS with the win/cover against Miami looking more and more like a function of the Dolphins' problems than anything the Titans did right. Tennessee on a 5-10 ATS run against divisional rivals and a 12-20 ATS run in conference games. Texans are 9-5 ATS in divisional games and 21=12 ATS run against conference opponents in the same timeframe. Don't like laying points on the road but will do so here. Texans won 38-14 at home earlier this season and the Titans have deteriorated greatly since then. Money has come in on Houston all week and this line could go to -7. Grab the Texans before it does.
Bet Houston Texans -6 over Tennessee Titans
No Comments