Patriots Win Over Dolphins Thanks to Three Unlikely Stars
Added on Oct 05, 2010 by Eric Galko in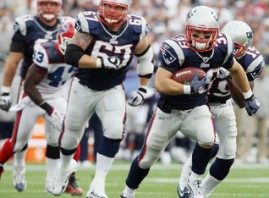 One is a non-starter, 2nd round pick from Oregon. Another, an undrafted running back from Division II Chadron State. And the final, is a linebacker cut three times in four seasons, twice by the Saints and once by the opposing Dolphins
As you can probably tell, none of the stars are Tom Brady, Wes Welker, or Jerod Mayo, all who played well and were expected to.
No, Patrick Chung, Danny Woodhead, and Rob Ninkovich were the difference makers for the Patriots.
Chung, the safety 2nd rounder, finished the game with a stat-line full of rare headliners. Chung blocked a punt, blocked a field goal, and an interception returned for a touchdown. A special teams ace the past two seasons, Chung has now made a name for himself for this team, and at the very least, he's got a great chance to be a special team pro bowler.
Danny Woodhead, who was cut a few weeks ago before the Patriots game versus the Jets, was the "feature" back for the Patriots, a rare sight for a team known for depth and rotation at the position.He finished the game with 28 total touches and some very productive plays. He could become a more intrical part of this offense in the very near future, and for an undrafted player and a recent cut, he's really making a name for himself.
Finally, Rob Ninkovich, a 4th year player from Purdue, was cut three times in his short career, including in 2008 by the opposing Dolphins. It's safe to say he got his revenge.
He finished the game harassing Chad Henne for two interceptions and impactful tackles as he helped keep the Dolphins offense, which put up 23 points and almost beat the Jets a week ago, to only 14 points. Ninkovich was a surprising start to begin the season, but it's safe to say he'll be a noticeable difference maker for a defense still trying to rebuild and still compete.
If the Patriots can win games without Randy Moss catching a pass and their special teams and defense scoring 21 points, they'll be right back in the mix for the Super Bowl.
No Comments