Raiders Break Ties With Cable
Added on Jan 05, 2011 by Scott in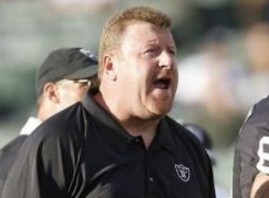 The Oakland Raiders are once again in the market for a new head coach after informing Tom Cable yesterday that they wouldn't pick up the option on his contract. Cable went undefeated in the AFC West in 2010 and finished with the franchise's first non losing record since 2002. However, 8-8 and another season without a playoff berth was more than enough reason to kick Cable to the curb.
Cable assumed coaching duties from Lane Kiffin midway through the 2008 season. Despite a litany of quarterback problems and draft day blunders, he managed to compile a 17-27 record. His 44 games coached were the most since Jon Gruden.
Punter Shane Lechler summed up the sentiments of some of the players prior to the news of Cable's dismissal:
"I seriously believe that it would set us back again," Lechler said Monday. "I can't go through another head coach. I just can't. I've been through too many of them. And they all come in here and say the same thing, 'I'm going to do this, I'm going to turn this.' No, you're not. I'd rather be with the guy that's here right now, and we'll roll with him."
Even though he's a punter, those are still strong words. I actually agree with Lechler. The one thing the Raiders need is stability and continuity. Giving Cable, who made significant strides this season, another year would have been the smart, sensible thing to do. Therein lies the rub. Al Davis doesn't think in logical terms. He just wants to win, now.
******
In other coaching news, the Bengals have re-signed Marvin Lewis to a two-year deal. Lewis is only 60-69-1 in eight seasons, but he does have the only two winning campaigns since 1990. After a promising 2009, Cincinnati regressed back to their bungling ways and finished 4-12. Lewis has much work to do if he wants to compete in the AFC in 2011.
Source: NFL.com
No Comments